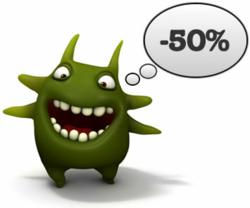 With the recent popularity of sites such as Groupon and LivingSocial, it is clear that online consumers are hungry for good deals and offers - we want to satisfy some of that hunger with the Super Voucher Monster!
(PRWEB UK) 23 June 2011
Super Voucher Monster is a powerful new tool that consumers can use to find the latest vouchers, discount codes and offers from thousands of popular retailers. Users no longer need to trawl search engines as they can now use the Super Voucher Monster to find the vouchers they seek in an instant.
Focus
The service has been designed from the ground up to focus on active retail incentives in an effort to minimize the disappointment felt with expired or broken voucher codes. By combining a simple user interface with a comprehensive data set, the service hopes to satisfy as many consumers as possible.
Innovation
The Super Voucher Monster service aims to reach beyond typical voucher sites with the development of powerful filtering technologies for more engaging ways of discovering offers and interacting with retailers. A full range of phone applications and browser widgets will follow later this year.
###