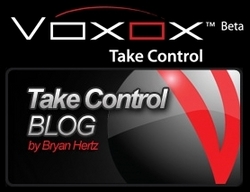 Never before have consumers been so connected
San Diego, CA (PRWEB) March 3, 2009
VoxOx, a service that unifies today's key communication channels -- voice, video, IM, text, social media, e-mail, fax and more -- into a single, intuitive user interface, today announced the launch of its "Take Control Blog," as well as its newly revamped Web site. The blog, authored by Bryan Hertz, CEO of TelCentris, the creator of VoxOx, will enable Hertz to engage in dialogue with consumers and industry luminaries regarding emerging industry trends, recent technology advancements and predictions with respect to "universal communications."
Hertz will draw from personal anecdotes, such as how he successfully manages his communication channels as a busy CEO, husband and father of a three-year-old son. Hertz begins his blog entries with a discussion and examples of the communications overload Millennials and Gen Xers are experiencing today. He will also touch on various communications industry topics and key players, including Google Android and the mobile space, AT&T and other major carriers' VoIP offerings, tips on how to keep consumer communication (including international calls and texting) free, impact of the current economic climate on the communication landscape and much more.
"Never before have consumers been so connected," said Hertz. "In my blog, I want to create an open dialogue with VoxOx users and the industry on managing communication in a constantly evolving wireless and digital landscape. The blog will be interactive, so I'm looking forward to sparking discussions and receiving readers' opinions."
Leveraging his entrepreneurial expertise and his passion as a young CEO, Hertz co-founded TelCentris to bring a new wave of communication capabilities and cost-saving technologies to the market. Young though he may be, Hertz has more than 18 years of experience in technology innovation and software design, operational management as well as research and development.
In addition, VoxOx has unveiled its revamped Web site, with enhancements based on user feedback.VoxOx.com will now provide additional customer support options including a FAQ section, more detailed feature descriptions and an informal blog (besides the Take Control Blog) that is dedicated to keeping users informed about VoxOx service updates and other service-related material.
To view the Take Control Blog by Bryan Hertz, please use this link: http://takecontrol.voxox.com/ or to subscribe to the blog, please visit http://ceo.voxox.com/?feed=rss2. Any additional information on VoxOx can be found at http://www.voxox.com.
About VoxOx
VoxOx is the first ever "Universal Communicator Service" that manages all forms of cross-media communication for consumers. It is the only service that unifies today's key communication channels -- voice, video, Instant Messaging (IM), text, social media, e-mail, and content sharing -- into a single, intuitive interface that gives consumers control of their contacts, conversations and most importantly, their interconnected lifestyles, both now and in the future. It combines the benefits of Internet-telephony solutions, interoperable IMs, Web services and social networking aggregators, and much more at no cost to the user. VoxOx is a consumer service created by TelCentris™ Inc., a new type of telephony company founded by seasoned technology veterans in San Diego, Calif. For more information on TelCentris, please visit http://www.telcentris.com.
About TelCentris™ Inc.
TelCentris™ is an innovative San Diego-based unified communications and telecommunications provider developing advanced communication solutions and serving the needs of carriers, enterprises and consumers. The founders have a long history in technology, and bring to consumers the lessons learned from massively scalable enterprise data networking, IT and various software fields. TelCentris offers telecom companies, regardless of size, the ability to launch profitable VoIP offerings in a matter of days while minimizing upfront capital expenditures. TelCentris also leverages its Service Delivery Platform to provide hosted IP-PBX solutions for small and medium-sized businesses.
###