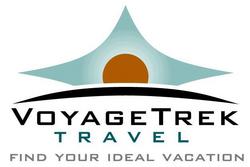 Consumers want a qualified tour operator who they can talk to regarding their vacation needs before paying on average $7,300 for a trip booking
Seattle, WA (Vocus) October 2, 2008
VoyageTrek.com is a free online travel directory providing vacation match-making services for high-end travelers. The company has the largest online database of specialty tour operators and is the new "go to" resource for vacation planners.
VoyageTrek's services make navigating through all the adventure tours offered in the marketplace easy. Their recommendations or "vacation match results" are a third-party endorsement of a particular trip. Rather than relying on the descriptions featured on tour operators' Web sites, trying to understand services that can be complex to navigate, not knowing where to start or what company has the best reputation and delivery of service, VoyageTrek makes it their business to know the tour operators "inside and out."
"Consumers want a qualified tour operator who they can talk to regarding their vacation needs before paying on average $7,300 for a trip booking," says Cliff Hawk, founder of VoyageTrek.com. "We research, follow word-of-mouth, make visits, and screen tour operators so we are ready to make qualified matches between consumer and tour operator. We are the premier vacation match-making service."
Trips to Alaska, select fly fishing lodges, and dude ranches throughout the western United States are some of the top vacation match-making requests. Recent expansions include African safaris, Galapagos Islands cruises, trips to Peru's Machu Picchu or Ecuador, and tours throughout South America, starting with Argentina.
Hawk says consumers are responding positively to the vacation match-making services he provides. "VoyageTrek will continue to expand its travel segments and commitment to helping people find their ideal vacation," he says.
To learn more about VoyageTrek.com's vacation match-making service visit http://www.voyagetrek.com.
VoyageTrek Travel
Contact:
Cliff Hawk
206-695-2915
cliffh @ voyagetrek.com
http://www.voyagetrek.com
Click Here for Media Kit.
###