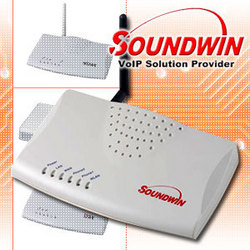 (PRWEB) August 5, 2008
According to its enterprise philosophy, Soundwin Network Inc., whose factory is well-equipped for 1,000,000 sq.m, is highly capable of mass production of hundreds of products like IP PBX, GSM Gateway, VoIP access devices, VPN Gateway, WiFi ATA, VPN, GSM phone, Analog Line SIP Proxy Server and so on. These telecommuting devices by Soundwin are all high-level quality and design with multi-function to offer buyers a new experience.
In spite of the changeable and competitive market nowadays, Soundwin insistently makes the effort and takes time to install many advanced technology & testing equipment like smart-bit and Agilent's VoIP Testing Hammer NXT to maintain its production reliability and stability. Honorably approved by ISO 9001, FCC with Part 15 & Part 68, and CE, Soundwin's VoIP access devices are highly recommended by customers from North America, Europe, China, and Southeast Asia, etc.
In order to export to more foreign countries and set up the partnership with more clients, Soundwin receives mass procurement for its VoIP devices as well as customized order purchasing. Thus, with this flexible marketing policy and management, Soundwin utilizes the most advanced R&D skills of IP Telephony, that contains superior voice quality, enabling it to play an important role in the global VoIP products market.
In addition to sustaining an array of proprietary technologies that have won Soundwin acclaim from all quarters around the world, Soundwin has also become one of the world's few vendors able to integrate H.323 / v2 / v3 / v4, SIP (RFC3261), voice coding, voice signal protocols and routing technologies in its product offerings. The VoIP solution for Modular VoIP Gateway & Caller ID is one of the typical example for Soundwin's integrated services.
--The Main Devices in Soundwin
IP PBX, an Analog Telephone Adaptor, is well-designed with two telephone jacks to connect both the existing phone and fax machine. Each phone jack is able to operate independently with separate phone numbers. With this appropriate Internet telephone devices, customers will get clear telephone reception and reliable fax connections, and all while using the Internet for normal data operations.
Mentioning the appropriate telecommuting devices, the VoIP Manufacturer - 16 Port Caller ID VoIP Gateway certainly cannot be missed. The S1600 / S2400 Series of VoIP Gateway is fully SIP and with H.323 standard compliant high density gateway that provides a total solution for integrating voice-data network and PSTN. Due to its echo cancellation of G.165/G168, this VoIP Gateway absolutely presents users good voice quality, leading users pleased to use.
Another major product of Soundwin is VPN Gateway, which is supported by protocol PPTP / L2PT / IP sec. The N200 / WN200 series of the VPN devices are highly-performed to provide up to 32 simultaneous VPN tunnels for branch-office linking or telecommuters. With total security and voice cost-effective solution, the VPN Gateway can provide buyers not only individual users but governmental and industrial customers in fair low price with good quality.
For the coming future, Soundwin will pay more attention to integrated modern techniques with delicate design into the brand new production line, trying to impress worldwide clients with its advanced devices, never stopping innovating itself for daily production.
###