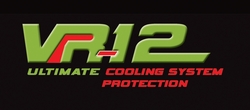 VR-12 is designed to take care of your vehicle and save money while saving the environment. It helps conserve resources because it can re-energize your antifreeze and boosts your cooling system
Miami, FL (PRWEB) October 28, 2010
The auto industry is providing consumers with more environmentally safe solutions in hybrid cars, electric cars, and specially engineered vehicles that use less gas and have less of an impact on the environment. Freezetone® Products, USA is doing their part with the release of VR-12, an environmentally safe vehicle monthly maintenance solution for radiators and the cooling system of your vehicle. The debut release will be this November 2-5 at the SEMA Show in Las Vegas, Nevada at booth 20459. David Ragan, the NASCAR Sprint Cup Series driver will be there along with VR-12 president, Luis. M. Latour.
VR-12 is a revolutionary green product that is used to guard against coolant problems. This new invention is the ultimate cooling system protection. It is like a vitamin for cooling systems, composed of organic components and mixed through a synergetic process. VR-12 offers an alternative to topping off radiators and cooling systems versus conventional methods. A special formula containing Organic Acid Technology (OAT) will keep vehicles running at pick performance for longer periods of time while eliminating flushing and waste. It should be used as part of monthly radiator and cooling system maintenance. VR-12 is a green product that protects radiators and cooling components from rust and corrosion, preventing expensive coolant replacement.
Vehicle maintenance is important, especially as consumers are postponing buying new cars in a recovering economy. VR-12 is appealing as maintenance solution for radiators and car coolant systems because it can be used with all makes and models and mix with any antifreeze/coolant type, color or brand. Any vehicle owner, motorcycle, heavy trucks, light duty trucks, RV's, Boats, experiencing poor vehicle performance due to a week and neglected coolant can use VR-12. Also, other coolants are compatible with VR-12 so consumers can use this product when changing engine coolant in conjunction with what they are already using.
"VR-12 is designed to take care of your vehicle and save money while saving the environment. It helps conserve resources because it can re-energize your antifreeze and boosts your cooling system," says Luis M. Latour, President of Freezetone®. "Finally: an environmentally safe, green product as a vehicle maintenance solution for your engine's cooling system. We encourage industry leaders to visit our booth and spread the word to their customers. Saving money and being environmentally friendly is at forefront of the minds consumers right now. This is a great opportunity."
The SEMA Show will be held at the Las Vegas Convention Center, November 2-5. Latour and NASACAR Sprint Series driver, David Ragan will be at booth 20459 to showcase click so see SEMA show presentation video of VR-12.
"VR-12 is the ultimate cooling system protection," says David Ragan. "It was a huge success at the recent National Association of Convenience Stores trade show in Atlanta. We have plans to accelerate that success into the SEMA show in Las Vega next week."
You can learn more about VR-12 at vr-12.com and by visiting booth 20459 at the SEMA Show in Las Vegas November 2-5.
About VR-12
VR-12 is manufactured by Freezetone® Products, USA, leader in International car maintenance products and environmentally safe solutions. Luis M. Latour, President, has 30 years of experience in manufacturing ecological products for the automotive industry. With his team of experts, he was able to develop a solution that saves consumers money while at the same time lessening the environmental damage caused by most automotive chemical solutions.
###