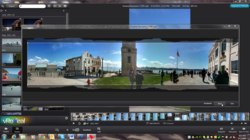 "AMD's innovative Vision technology makes it possible for us to deliver a lightning-fast, effortless video software experience to consumers at a great price." Sean Varah, CEO, MotionDSP
Burlingame, CA and Seattle, WA (PRWEB) June 14, 2011
MotionDSP, a leader in video processing technology, today announced the release of vReveal® 3.0 (http://www.vreveal.com), a major upgrade to its software for enhancing video from mobile phones, digital cameras, and DSLRs. vReveal 3.0 is released in conjunction with the launch of AMD A-Series Accelerated Processing Units (APUs), and it is extensively optimized to take advantage of their powerful parallel computing capabilities.
vReveal's new "auto-panorama" is a revolutionary new feature for creating stunning panoramas from video. Almost any panning video clip can be automatically transformed into high-quality panoramic image and posted to Facebook in one click.
The new release also features a completely redesigned user interface, up to 179% faster performance for HD video processing on A Series APUs (compared to Intel's Sandy Bridge chips), and a signature one-click video fix, allowing users to automatically stabilize, color-correct, and sharpen video in any format.
"Video processing is notoriously computationally intensive, which enables this type of application to benefit tremendously from the combination of CPU and GPU on the same die in the APU architecture," said John Taylor, director, Client Product and Software Marketing, AMD (NYSE: AMD). "We have been working with MotionDSP to optimize vReveal to run on APU-based PCs because vReveal's powerful algorithms are a perfect match for CPU general purpose and GPU parallel processing in AMD A_Series multicore APUs. vReveal 3.0's new OpenCL-based architecture spreads tasks across both the CPU and GPU, taking full advantage of the supercomputer-like performance available in A-Series APUs. The results are even better than we could have expected." In controlled lab tests, vReveal 3.0 performed up to 179% faster on PCs powered by AMD A-Series APUs versus comparable Intel-based PCs at HD resolutions.
"Millions of new smartphone users want to discover, fix, and share their videos," said Sean Varah, CEO of MotionDSP. "AMD's innovative Vision technology makes it possible for us to deliver a lightning-fast, effortless video software experience to consumers at a great price. We're proud to be a launch partner for AMD's A Series APUs."
vReveal is available as a free download at http://www.vreveal.com.
About vReveal & MotionDSP:
vReveal® video software for Windows makes it easy for consumers to find, fix and share their videos. MotionDSP is a leading innovator in digital video processing software. MotionDSP's next-generation algorithms automatically improve the quality of video captured by a wide range of video sources. vReveal is a registered trademark of MotionDSP Inc.
###