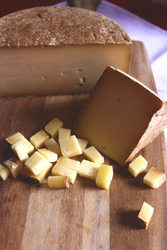 "Vermont has found its niche in the world of cheesemaking."
Shelburne, VT (PRWEB) March 22, 2011
Returning once again to the picturesque shores of Lake Champlain, the Vermont Cheesemakers Festival will be held at Shelburne Farms on Sunday, July 24, 2011. From the mild and creamy Bonne Bouche to nutty and sharp, cave-aged cheddars, the Festival is a celebration of Vermont's diverse community of cheesemakers. This year's Festival will also bring in the best of Vermont's wineries and breweries, as well as a broad selection of artisan food producers, with a focus on locally raised meats and other traditional accompaniments to the cheese board.
"Vermont has found its niche in the world of cheesemaking," said Mark Fischer, farmer and president of the Vermont Cheese Council. "We have over 40 creameries here in the Green Mountain State, many of which are bringing home blue ribbons and national accolades. The Festival is the one time a year we all come together to showcase the best the Vermont has to offer."
The participating cheesemakers will offer over 100 different cheeses to sample and purchase, as well as cheesemaking and cooking demonstrations. Highlights of this year's Festival include a Vermont Wine Tasting Panel led by Sam Gugino of Wine Spectator and Chef Sean Buchanan; a seminar on Vermont meats with Matt Jennings, chef owner of Farmstead; and a panel dedicated to Vermont's world-renowned cheddars led by Michael Colemeco, host of Food Talk.
Cheese enthusiasts interested in expanding their Vermont experience may also participate in a special tasting dinner at the Inn at Shelburne Farms, or by visiting one the creameries along the Vermont Cheese Trail. Saturday, July 23, the creameries will be open for tours, demonstrations and tastings. Creamery owners will take guests behind the scenes from pasture to table to meet the animals, take a peek inside an aging cave, and try their hand in the cheesemaking process.
The Festival is presented by Vermont Butter & Cheese Creamery and the Vermont Cheese Council, along with sponsors including Cabot Cheese, Grafton Village Cheese Company, Shelburne Farms, and Ben & Jerry's.
Tickets are available at the Vermont Cheesemakers Festival website at http://www.vtcheesefest.com or by calling the Flynn Tickets box office at 802-863-5966. General admission tickets are $35 before June 30, $40 after, and each tasting seminar is an additional $45. Tickets to the Festival have traditionally sold out well in advance, so early reservations are suggested.
For more information, a full list of participants and presenters, and a detailed schedule of events, please visit http://www.vtcheesefest.com or call 800-884-6287.
# # #