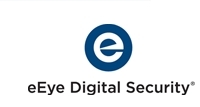 We take a unified approach, which enables IT security professionals to manage assessment, mitigation, and protection from a single console.
Phoenix, AZ (PRWEB) March 18, 2011
eEye Digital Security, a provider of IT security and unified vulnerability management solutions, will exhibit at the SecureWorld Expo in Boston, Massachusetts, March 23-24, 2011. The company's CTO, Marc Maiffret, will participate as an industry expert on a network security panel discussion. The conference brings together the security leaders, experts, senior executives, and policy makers who shape the direction of security across Information Security, Physical Security, Compliance, IT Audit, Computer Forensics, Enterprise Risk Management, Business Continuity, and Security Management.
eEye invites the media and SecureWorld Expo attendees to explore the company's latest innovations, demonstrated in Booth 413, primarily the company's Retina CS Management solution, Retina Insight reporting engine, as well as add-on modules for Configuration Compliance, Government Regulatory Compliance Reporting, and Patch Management.
eEye CTO, Marc Maiffret, will offer insights on the Industry Expert Panel, "Network Security: Finding the Right Management Program," to be held on Wednesday, March 23 from 1:30 - 02:15 PM in Room 103.
"As a speaker on the Network Security panel, I look forward to hearing from other IT security leaders, as well as sharing eEye's perspective on what should be required of a vulnerability and compliance management solution," said Marc Maiffret, CTO, eEye. "We take a unified approach, which enables IT security professionals to manage assessment, mitigation, and protection from a single console."
eEye is participating in SecureWorld Expo's "Dash for Prizes." Attendees can register at the eEye Booth (413) throughout the two-day conference to win an Amazon Kindle and a $25 gift card. Winners will be announced during the last break of the conference on Wednesday, March 24. Attendees must be present to win.
Follow eEye Digital Security
eEye Blog
eEye on Facebook
About eEye Digital Security
Since 1998, eEye Digital Security has made vulnerability and compliance management simpler and more efficient by providing the only unified solution that integrates assessment, mitigation, protection, and reporting into a complete offering with optional add-on modules for configuration compliance, regulatory reporting, and integrated patch management. eEye's world-renowned research and development team is consistently the first to uncover critical vulnerabilities and build new protections into our solutions to prevent their exploit. Thousands of mid-to-large-size private-sector and government organizations, including the largest vulnerability management installations in the world, rely on eEye to protect against the latest known and zero-day vulnerabilities. More at eeye.com.
# # #