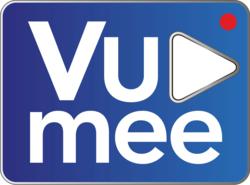 Fairfax, VA (PRWEB) September 13, 2012
NewsWatch, a national television show, recently aired a news segment that took a look at a new and innovative app by Data Pangea called Vumee. Scott Steinberg, author of the "Modern Parents Guide" and nationally recognized tech guru, joined NewsWatch to highlight the apps.
VuMee, a video sharing platform by the publicly traded company Data Pangea, combines the power of video sharing with the popularity of social media to create a personalized mobile and desktop platform for companies & brands, as well as celebrities & fans. VuMee's app allows users to record videos up to three times longer than their competitors, which gives users the ability to record one minute on a mobile device and one hour on a desktop computer. Users can then share these videos via push technology with friends and on social media sites.
Vumee also offers businesses and brands the opportunity to use their technology in a "Vu Biz Select" or "Vu-Biz Signature", providing a customized page with features that allow companies & brands to showcase exclusive content with a revenue sharing model. There are 10-15 second video pre-roll commercials that air in front of celebrity generated content. For any consumer that is interested in viewing content from their favorite brands or peeking into the lives of your favorite stars, Vumee is an ideal app. With celebrities like Flo Rida, Ray Lewis, Steve Weathorford and Maxim Covergirl Dominique Storelli already using it, VuMee's popularity is growing daily.
Available on Android and iOS devices, all you need to do to start using the app is download it from iTunes or Google Play, create an account, and start uploading video and sharing with your friends. For more information on the app, go to vumee.com.
NewsWatch is a weekly 30-minute consumer oriented television show that airs nationwide. NewsWatch regularly features top travel destinations, health tips, technology products, medical breakthroughs and entertainment news on the show. The show airs in 180 markets nationwide as well as all of the top 20 broadcast markets in the country, and is the preferred choice for Satellite Media Tour and Video News Release Distribution. For more information, head to newswatchtv.com