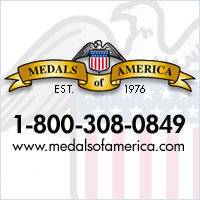 Medals of America's relationship with the VVA has been a blessing. As a Vietnam Veteran, I initially did not know that there was an association like the VVA out there.
Fountain Inn, SC (PRWEB) June 22, 2011
Medals of America, the veteran owned and operated premier source for military medals, military patches and more, has extended its organization's resources to help Vietnam Veterans of America chapters throughout the country. The help and support that Medals of America is offering these Veteran's groups ranges from providing merchandise, to helping set up an online presence for these chapters.
There are currently more than 100,000 VVA members, and one of the key focuses of each of these chapters is to ensure and offer each VVA member benefits for their military duty and service they offered our grateful country. This alone is a large task for these organizations to take-on, so Medals of America wanted to help support other areas of need for these VVA chapters, allowing more time for the chapters to focus on Veteran benefits.
Medals of America clearly is a great source for military merchandise for each of these chapters, but Medals of America wanted to offer more. Many VVA chapters don't have websites in place, or even the resources to develop one. A website would offer these groups another platform to connect with members and become more visible. Medals of America recognized this opportunity, and wanted to help get some VVA chapters up and running, online.
The VVA 523 Foothills Chapter is one chapter in particular that Medals of America has helped get set up with a website. Medals of America was able to set up a site for the chapter that is easy to use and operate, allowing the VVA chapter to communicate with its members, whether they post announcements, share meeting minutes, or even post photos. The website also helps grow these chapters, as it is an outlet to attract new members.
"Medals of America's relationship with the VVA has been a blessing. As a Vietnam Veteran, I initially did not know that there was an association like the VVA out there," said Tony Aldebol, Director of Veteran Operations, Medals of America. "After joining a local VVA chapter, I was eventually elected to the Board of Directors. This opportunity allowed me to bring up the idea of a website for our chapter to grow and reach more Vietnam Veterans. The website would also help members stay informed about events in both the local and national arenas. It also helps to spread the word on veteran benefits that otherwise might not be known, so all members can see on a regular basis what their chapter offers."
This has, and continues to become a great opportunity for both Medals of America and the Vietnam Veterans of America chapters they partner with, providing them merchandise, and getting the chapter's websites set up. Since many of Medals of America's employees are veterans themselves, they understand the need these VVA chapters have, and wanted to help. This is just another way that our grateful nation can say "Thank You" to the great people that showed their dedication and honor to our country.
About Medals of America
Medals of America is your premier source for Military Medals, Badges, Military Hats, Patches, Rank, Rates and Insignia, as well as Custom Embroidered Clothing. We're also proud to offer our exclusive Ribbon Rack Builder, Military Medals Builder and Custom Display Case Builder.
Veteran owned and operated over 35 years! Our mission is simple - we want every person who served in America's Armed Forces to display the awards our grateful Nation awarded them. Anything we can do to have all the great Americans who served their country in the Armed Forces display their award will enrich future generations by these symbols of Duty, Honor and Country.
###