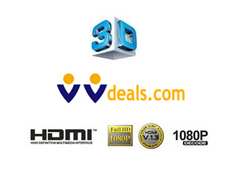 3D HDMI is ALL In at VVdeals.com
(PRWEB) March 30, 2011
Nowadays, HDMI has become household word, while several years ago, we even don't know what is "HDMI". Technology has changed everything. We now have HDTVs w/ HDMI interface that can be hooked up to satellite set-up box, PS3 game player, blu-ray player, or other high definition electronics for an immersive home entertainment.
The television vendors like Panasonic, Samsung and Sony have already produced the newest trend for the living room - 3DTV. 3D television makers hope to bring the experience of 'Avatar' into people's homes and revitalize the entire market. And with the demand for 3DTVs likely to increase, driven by greater availability of content and we are certain that Super High-Def will be a future driver. Then are you ready for 3D for your home theater. No wonder it's the stream. VVdeals is ready and has prepared for you a feast on 3D HDMI series, including 3D HDMI splitter, 3D HDMI matrix, 3D HDMI switch.
There will be a great special offer for all the 3D HDMI series, up to 60% OFF, start from March 30 to the end of the April. Greater deals will be expected, that is, the daily deals and weekly deals.
###