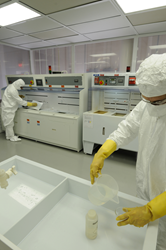 'Flametec Thermax PVC completes our diverse portfolio of clean room materials. We now have PVC, PVC-C, PVDF and polypropylene materials that meet or exceed standards for these applications.' - Chris Paas, Director of National Sales and Marketing
Scranton, PA (PRWEB) July 30, 2014
Vycom announces the addition of Thermax PVC to the Flametec® family of products, designed to meet Factory Mutual (FM) 4910 fire propagation and smoke generation criteria for cleanroom equipment materials such as wet benches, process tools, fume hoods, furniture and cabinetry. These criteria reduce threats to worker safety and damage to semiconductor wafers used in electronic chip manufacturing.
Flametec Thermax provides a flame-retardant PVC solution with excellent workability and superior aesthetics. It is available in a smooth, white finish, in various sheet sizes and thicknesses.
Flametec Thermax PVC is very easy to fabricate and weld. It has optimal mechanical properties at service temperatures up to 170 degrees F, high chemical resistance and heat deflection surpassing that of standard PVC.
"Flametec Thermax PVC completes our diverse portfolio of clean room materials," said Chris Paas, Director of National Sales & Marketing for Vycom "We now have PVC, PVC-C, PVDF and polypropylene materials that meet or exceed standards for clean room, lab and semiconductor wet processes."
In addition to FM4910, Flametec Thermax PVC also meets UL-94 V-0, ASTM E-84 and is RoHS and REACH compliant.
Other Flametec products include: Flametec Cleanroom PVC-C with the highest flame and smoke resistant properties among FM 4910 materials. It maintains its mechanical properties at service temperatures up to 200°F; Flametec CP-7D, a polypropylene FM 4910 material with high heat deflection and workability; Flametec CP-5 Flame Retardant Polypropylene (UL 94 V-0) formulated for fire safety where a Factory Mutual listing is not required; and Flametec Kytec PVDF (FM4910 Listed) manufactured as an ultra-pure, polyvinylidene fluoride resin suitable for harsh thermal, chemical and UV environments.
For more information, visit http://www.vycomplastics.com.
About Flametec
Vycom's Flametec proprietary family of fire safe materials offers the semiconductor and cleanroom industry a full portfolio of product offerings specially formulated to exceed the fire compliances for polymers in applications for tools, wet benches, cabinetry, furniture and other equipment. Flametec materials offer superior chemical resistance while providing optimal physical properties for fabrication, forming and workability. For more information, visit the Vycom website at http://www.vycomplastics.com.