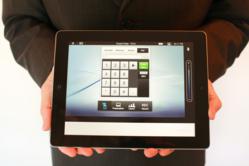 "We are confident in vControl® Touch's ability to transform the video marketplace and have offered as a free download from iTunes." -- Alfredo Ramirez, President and CEO of Vyopta
Austin, Texas (PRWEB) October 15, 2012
Vyopta Incorporated, a pioneer developer of applications for Cisco business video announced today the release of vControl® Touch for the iPad.
Initially introduced for the iPhone, Vyopta's vControl® provides users with an intuitive interface, making it easy to place a video call without sacrificing valuable call functions. With the transition to the iPad, vControl® Touch takes advantage of the larger format to provide an experience similar to the Cisco Touch, virtually eliminating any learning curve.
vControl® Touch can be used on an iPad dedicated for a specific room; however, the true advantage is untethering from this concept to provide users with mobility and flexibility to use any endpoint for which they have access, all from their own iPad. Vyopta's vControl® Touch also offers additional integration to the Cisco CXS platform. Recording video from endpoints can be as easy as a single tap or part of a workflow driven integration for an organization's business needs.
"We want people to experience what it means to be truly mobile within their video network. We know that this application can have a huge impact on the use of video technology within education systems and businesses alike," said Alfredo Ramirez, President and CEO of Vyopta. "We are confident in vControl® Touch's ability to transform the video marketplace and have offered as a free download from iTunes."
Applicable in any vertical that uses video communications, vControl® Touch is designed for easy adoption as well as simple yet effective centralized management for video network administrators. As with all Vyopta products, vControl® Touch can integrate with Vyopta's vAnalytics™ application, to provide video managers with vital information for intelligent use of their video network.
About Vyopta Incorporated
Vyopta is a pioneer developer of applications for Cisco business video. Vyopta adapts video to business processes, delivering high-quality customer service, process automation and business intelligence. Vyopta's solutions unleash the potential of business video investments, resulting in improved educator and student performance and outcomes, enhanced customer satisfaction and retention, increased sales and cost savings and greater agility in meeting continually changing business demands. For more information on Vyopta and its products, visit http://www.vyopta.com.