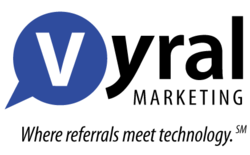 I could not accomplish what I accomplish with Vyral Marketing's database video program any other way.
Bel Air, Maryland, (PRWEB) April 02, 2013
Realtor Lee Tessier of the Lee Tessier Team of RE/MAX American Dream in Bel Air, Maryland specializes in helping home buyers and home sellers in the highly competitive Baltimore, Maryland housing market. Since newly incorporating Vyral Marketing's educational video program into his firm's promotional strategy, Tessier says he's been able to leverage one of his most important assets – his customers – by creating video testimonials to post on his website, YouTube, and social media pages.
Tessier, whose real estate firm services the Harford County, Baltimore County, Cecil County and Baltimore City areas, says his Vyral Marketing video series has proven to be a great trust-builder with customers as he divides the twice-monthly videos he shoots between satisfied customer testimonials and his own straight-talking, education-based videos.
"Building trust is the best way to promote your services, and our Vyral Marketing database videos have allowed me to do just that," Tessier says.
Since he began creating the two-minute videos, which are distributed by Vyral Marketing to Tessier's database and social networking pages, new client inquiries have risen steadily.
Tessier recruited Vyral Marketing's database video program initially as a tool to build an online video presence and connect with his customer base. He had seen other businesses use the program successfully to stand out among other industry professionals, and decided it was the right tool for stepping up his game in the competitive Maryland real estate market. Adding to the appeal was Vyral Marketing's expert coaching staff who helps Tessier create relevant, one-of-a-kind scripts that appeal to consumers who are either actively looking to buy or sell a home, or are not quite ready to begin the process.
A dedicated professional with a reputation for putting clients first, Tessier places a high value on customer testimonials, and it shows.
"Customers respond to my videos because people value the stories of satisfied clients," Tessier says. "In addition, the videos I personally shoot each month focus on important questions that don't necessarily benefit me as a realtor.
"In my videos, I address things like the pros and cons of buying versus renting, or of "for sale by owner" versus hiring a realtor to sell your home. These are important questions that people are looking for answers to, but many realtors don't want to address."
For Tessier, his candid, informative videos attract plenty of positive inquiries from people who prefer his honest approach, something he says people remember when they're ready to list or look. The recognition factor is important, Tessier says, because customers feel more comfortable approaching a realtor with whom they have established even a small level of recognition.
"When people view my videos, they tell me they feel a sense of trust that makes it easy to bring their business to me," he says. "It may be today, it may be two years from now, but I'll be the guy they remember."
Tessier says the minimal time investment he makes each month was not only a huge selling point for him in the beginning, the value he gets month after month for the amount of work that goes into his video series cannot be matched.
"In 30 minutes I can record two videos, and my job is done for the month," he says. From script
writing to editing, distribution and all the administrative work that's involved, this is the absolute best bang for the buck I know of when it comes to high impact marketing.
"I could not accomplish what I accomplish with Vyral Marketing's database video program any other way."
To learn more about Vyral Marketing's education-based video blogging service for businesses and real estate firms,request a free consultation, visit the Vyral Marketing website, call 1-800-323-9974, or Email frank(at)getvyral(dot)com.
About Vyral Marketing:
VyralMarketing.com was launched in 2009 by Frank Klesitz to provide "done for you" education-based customer database marketing services to businesses and independent service professionals. Vyral Marketing offers a cost-effective complement to traditional advertising that results in more referrals and repeat sales. Businesses who follow the Vyral Marketing program for 12 months can expect at least 10 percent of their customer database to buy again or refer others.
For a flat fee of $525 per month, Vyral Marketing customers receive video editing, custom article writing, social media marketing, Email marketing and personalized feedback and coaching. In 2012 alone,135 Vyral Marketing clients recorded more than 2,600 informational videos for distribution to their customer databases. Each Vyral Marketing client receives a monthly coaching call to receive personalized topic recommendations and scripts upon request. Vyral Marketing also provides a staff of video editors, writers and administrative personnel to handle the entire process, including distribution to the client's customer database via Email and social media.
###