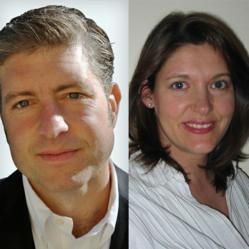 London, UK (PRWEB UK) 23 May 2012
vzaar Ltd, http://vzaar.com, a leading online video hosting platform, announced the appointment of Jim Henry as VP, Global Sales and Verity Batchelder as Chief Marketing Officer. As demand for video by internet users continues to grow, the company is experiencing exponential growth of its easy-to-use, flexible and affordable video hosting solution for businesses across the globe.
Jim Henry, who will be based at the company's new North American office, joins as VP, Global Sales and is responsible for overseeing the global sales team in its generation of revenue through new client relationships, strategic partnerships as well as through renewals with existing clients.
With 15 years of experience at companies such as ClickSquared, Elity and Xchange, Jim has a track record of consistently exceeding company sales goals with an exceptional commitment and focus on client satisfaction. Most recently, he acted as the Director of Sales for InOrder Software before joining vzaar.
Verity Batchelder, based in London, UK, brings a wealth of international marketing experience to vzaar, having joined from HP's online photo service, Snapfish, where she launched the Australia and New Zealand operation, before returning to London to head up the Snapfish UK team. Prior to this, Verity held senior marketing roles at Amazon.co.uk and Yahoo!. She holds an MBA from Melbourne Business School, Australia. At vzaar she will be responsible for all aspects of Marketing from strategy and brand development to lead generation.
"Both Jim and Verity have proven track records for driving business results, and have transformed several online and start-up ventures into thriving businesses", Stephen McCluskey, vzaar CEO said. "They are outstanding leaders who will drive the continued growth of vzaar as a leading online video hosting solution for business in this exciting, high-growth sector."
About vzaar
vzaar, http://vzaar.com is the online video hosting and distribution solution for small and medium businesses. vzaar's refreshingly easy to use interface intuitively formats video content for audiences across the globe, ensuring it's playable on every device on the planet. Built expressly for businesses with a service or product to promote, vzaar comes preloaded with all the customization, security and analytical tools needed to get the job done. Founded in 2007, vzaar has offices in London, UK and Boston, MA. Over 50% of vzaar's business clients are based in the US and it counts film director, Oliver Stone, amongst its investors.
For more information visit http://vzaar.com
For sales inquiries call 1-877-831-7110 (US) or 020 7820 6280 (UK)