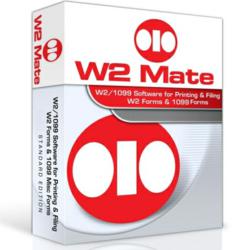 W2 Mate W2 1099 program is a special breed of applications that fills a niche often left by many tax systems. W2 Mate makes the compliance tasks associated with W2 1099 reporting easy and affordable for both businesses and tax professionals.
Chicago. IL (PRWEB) January 09, 2013
W-2 1099 Software Makers, Real Business Solutions (http://www.W2Mate.com) has released the 2012 Alabama W-2 Electronic Filing Software with support for the latest AL EFW2 format and specifications. The new release helps employers and filing agents comply with the Alabama DOR regulations for electronic submission of wage and tax information. Trial download of the new software is available from http://www.W2Mate.com.
The Alabama Department of Revenue requires electronic submission of wage and tax information for 25 or more wage statements. To file electronically through the Department's Web site employers and reporting agents must follow the procedures and specifications outlined in "Alabama Form 10" and the SSA EFW2 format. W2 Mate complies with and generates electronic files according to the AL DOR rules.
Year after year, small businesses and accounting firms rely on W2 Mate to process accurate and timely w-2 and 1099 returns with the Social Security Administration and Internal revenue Service. W2 Mate software has some of the best W-2 1099 software reviews in the industry. W2 Mate software offers support for paper-print and paperless (electronic) wage and information return preparation for W-2, 1099-MISC, 1099-INT, 1099-DIV, 1099-R, 1099-S, 1098-T, 1098, 1099-K, 1099-A, 1099-B, 1099-C, 1099-PATR, 1099-OID and associated transmittals (1096 and W-3 forms).
In a statement Nancy Walters, W2 Mate product manager at Real Business Solutions said, "We enjoy helping businesses and accountants cut down on W2 1099 processing cost, while providing them with reliable and dependable software."
W2 Mate Software Highlights:

2012 W2 EFile support (Complies with SSA EFW2 format Specifications for Filing Forms W-2 Electronically). 2012 1099 EFile support (Complies with IRS Publication 1220- Specifications for Filing Form 1099 Electronically)
Creates 2012 employee W2's as PDF and recipient (vendor) 1099's as PDF.
Prepares unlimited number of 2012 1099 and W-2 tax forms for multiple employers and payers.
TIN matching and verification including reports for missing TINs and TIN matching errors.
Auto generates control numbers for W-2 Forms.
Fills in pre-printed 1099 Copy-A forms and prints other 1099 copies such as recipient and payer copies on plain paper using black ink.
Prints government-approved W-2 and W-3 forms on regular white paper (no red-ink form to buy)
Data import from leading tax, accounting and CRM software applications including Microsoft Dynamics (Great Plains), Intuit QuickBooks Payroll (W2s) and vendor (1099s), Sage Peachtree, Sage DacEasy, Excel and CSV.
Supports 1099MISC, 1099K, 1099INT, 1099DIV, 1099R, W2, W3, 1096, 1099S, 1098T, 1098, 1099A, 1099B, 1099C, 1099PATR, 1099OID.
Automatically calculates Social Security and Medicare taxes. For paper filers 1096 and W3 are automatically generated.
Supports Windows 8, Windows 7, Windows Vista, Windows XP, Windows Server 2003, Windows 2000 or Windows 98.
Password protection and data validation.
Generates printing labels, form totals and recipient lists.
Network ready with affordable pricing for multiple seats.
Exports W2s and 1099s to excel.
Free downloadable updates.
Supports truncating social security numbers on returns.
Demo software includes sample company with sample 1099 forms filled out.
Free trial of W2 Mate software can be downloaded from http://www.W2Mate.com. Customers can purchase the software and receive it instantly.