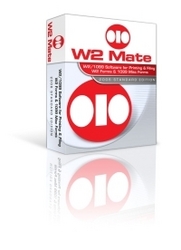 The secure PDF 1099 forms generated using W2 Mate can be sent to recipients instead of paper 1099s, which saves businesses a lot of time and money.
Orland Park, IL (PRWEB) January 25, 2010
Real Business Solutions, a leading 1099 software provider, drives cost and time savings for small businesses and 1099 preparers. Through W2 Mate, the 1099 reporting solution offered by the company, users can generate secure and IRS-compliant 1099 forms in the Adobe PDF format. The 1099 PDF files can then be sent to contractors and recipients instead of paper copies, which delivers tangible money and time-saving benefits.
A free demo of W2 Mate can be downloaded from the 1099 software download page. Customers can purchase the software and receive it instantly.
W2 Mate was one of the first 1099 software applications to introduce the ability to generate secure PDF 1099's (Recipient Copies of 1099 MISC form in PDF format) and secure PDF W2's (Employee Copies of W2 Form in PDF Format). The resulting PDF files can then be electronically sent to consenting employees and/or recipients instead of paper copies. Electronic delivery of 1099s and W2s saves businesses precious time and money. Large organizations such as universities and banks are currently using electronic delivery of W2 and 1099 forms to reduce the costly and labor-intensive process of printing and then distributing these forms by mail.
For businesses who still prefer to use paper forms, W2 Mate can print 1099 form copies & w2 form copies on regular white paper. The software also prints on pre-printed 1099 forms and w2 forms.
W2 Mate software highlights:

Prints on pre-printed 1099 forms & W2 Forms
Eliminates Need to buy W2 Forms and W3 Forms
Prints 1099 Form Copies & W2 Copies on blank paper
1096 and W3 automatically generated
Unlimited W2 & 1099 recipients / payers
Generates secure PDF 1099's and secure PDF W2's
1099 E-File and W-2 E-File
Very easy to use
Data checking and validation
Automatic updates through the internet
SSA and IRS instructions
Direct data import from QuickBooks
W2 1099 data import from CSV file
Exports to excel
About Real Business Solutions: Real Business Solutions is an industry leader in providing payroll software, 1099 software and W2 software solutions. Realtaxtools.com is the premier source, where businesses can find software to print 1099 forms, e-File 1099 forms, print W2 forms, e-File W2's with the SSA, prepare payroll and print payroll checks.
###