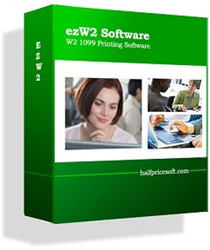 Just released ezW2 2014 software is available for filing for the 2015 year tax season for employers.
Pittsburgh, PA (PRWEB) November 05, 2014
The 2015 year tax season is just around the corner and ezW2 software from Halfpricesoft.com is now available for business owners to process and file W2, W3 and 1099 MISC forms. For a faster and less expensively alternative to hiring an accountant, businesses have started processing forms in house to save valuable time and money. Customer's get many unique features in ezW2 2014 including, pdf, efile, customers can now print forms for multiple states, print W2 and W3 on white paper as well as many other unique and time saving features.
"Just released ezW2 2014 software is available for filing for the 2015 year tax season for employers ." explains Dr. Ge, President and Founder of Halfpricesoft.com
EzW2 offers SSA Approved W2 and W3 Forms to save money.
What this means is businesses can print W2 and W3 forms on plain white paper rather than the expensive red forms.
EzW2 is flexible for printing, generating PDF files and efiling forms.
If customers want to cut the mailing cost, ezW2 can generate PDF format forms for W2 copies B, C, D, 1 and 2 and 1099-misc copy 1, 2, B and C.
Generate 1099 eFile document and W2 efile document that you can upload to IRS and SSA Sites.
ezW2 can print 1099 misc forms Copy 1, 2, B, C on white paper. IRS does not certify the substitute forms right now. You need to print 1099-misc copy A and 1096 on the red-ink forms.
ezW2 new edition implements the following form changes according IRS instructions and has been approved by IRS to print 2014 tax forms on white paper.

The title of the contact name, telephone number, email address, and fax number boxes on forms W3 has been changed to the employer's contact person,employer's telephone number, employer's email address, and employer's fax number, respectively.
On form W3, the employer's fax number box has been replaced with the employer's email address box to allow for a longer email address.
Customers can download ezW2 trial version before purchasing at http://www.halfpricesoft.com/w2-software-free-download.asp with no cost and no obligation. New customers can sample ezW2 version from Year 2007 version to current.
Other tax preparation software from Halfpricesoft.com includes ez1099 and ezW2Correction. To learn more, please visit http://www.halfpricesoft.com/w2_software.asp
About halfpricesoft.com
Founded in 2003, Halfpricesoft.com has established itself as a leader in meeting and exceeding the software requirements of small businesses around the world. Offering payroll software, employee attendance tracking software, accounting software, check writing/printing software, W2 software, 1099 software and ezACH deposit software. It continues to grow in the philosophy that small business owners deserve affordable, user friendly, and totally risk-free software.