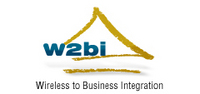 AetherPal is all about solving device issues very quickly so admins and users can stay productive. Our customers benefit from real time problem solving.
Union, NJ (PRWEB) September 15, 2009
w2bi, Inc., a leader in mobile device support and testing, announced today the availability of AetherPal® 2.3, which allows administrative support for all RIM Blackberry mobile devices. w2bi's AetherPal offering is a mobile device management enhancement solution built to enable enterprise and customer care operations to address specific device and user issues while increasing ROI on Smartphone deployments.
New features built into AetherPal 2.3 include:

o Administrators can manage all mobile devices controlled by a BES Server
o AetherPal device enrollment info is taken directly from the BES Server

Simple Banner Notification support for BlackBerry devices which allows administrators to schedule banners or initiate them immediately
Crystal Report Integration which enables admins to generate reports and export them into Crystal Reports
User Initiated Remote Control Sessions
o AetherPal 2.3 allows both admins and end users to initiate Remote Control sessions. Users initiate the session by clicking the AetherPal Remote control icon and the device sets up a data connection with the admin.
AetherPal 2.3 is a patent pending support solution for Blackberry devices as well as Microsoft Windows Mobile 6.X and Symbian devices. A single system AetherPal can support multiple OSs even if some are managed by BES and/or Microsoft SCMDM 2008. This provides addition flexibility to enterprises and IT support organizations.
AetherPal's key features are:

Remote Control is a virtualization tool that enables support staff to remotely view, manage, and control the user's device for troubleshooting, remote installation, device training, and application demonstrations while retrieving device parameters.
Banner Notification allows instant delivery of customizable messages/notifications to an individual or group of mobile users.
o The notifications can be simple text announcements, or may contain graphics, logos and hyperlinks. The uses for Banner Notification are broad, varied and unlimited. Whether it is for critical messages, customer subscribed updates, promotion alerts, emergency or weather related communications.
o Two-way banner notification provides confirmation of tasks or acknowledgments.
o Messaging is independent of a running e-mail application
"Blackberry mobile devices are so prevalent in the SMB and enterprise market that it becomes critical to deliver the best mobile device management solution to Blackberry users and administrators," said Alan Occhiuti, Business Development and Sales Manager, w2bi. "AetherPal is all about solving device issues very quickly so admins and users can stay productive. Our customers benefit from real time problem solving."
About w2bi
Headquartered in New Jersey, w2bi, Inc. develops innovative handset and Smartphone software solutions. w2bi's product portfolio includes solutions for automated device testing for wireless service providers and handset manufacturers, stand-alone mobile device management enhancements. Since 1997, w2bi has been deploying solutions globally addressing the needs of service providers, device manufacturers and enterprises. For more information, please visit: http://www.w2bi.com.
# # #