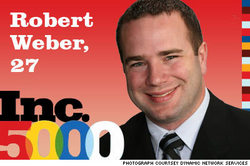 The Inc. 5,000 provides the most comprehensive look ever at the most important part of the economy -- the entrepreneurial part
St. Cloud, MN (PRWEB) September 26, 2007
Robert Weber, Founder and CEO of W3i Holdings, LLC, named as one of the CEOs Under 30 in the 2007 Inc. 5,000 list.
"It is an honor to be named on the CEO's Under 30 list. Growing an Internet business was a great learning experience. My sincere thanks and appreciation goes out to the entire W3i team and all our partners for enabling us to achieve 106% growth in gross sales over the past three years. We have worked together to build a thriving Internet business in central Minnesota." comments Robert Weber, CEO.
According to Inc.com the Inc. 5,000, an extension of Inc. magazine's annual Inc. 500 list, catches many businesses that are too big to grow at the pace required to make the Inc. 500, as well as a host of smaller firms. Taken as a whole, these companies represent the backbone of the U.S. economy. "The Inc. 5,000 provides the most comprehensive look ever at the most important part of the economy -- the entrepreneurial part," said Inc. 5,000 Project Manager Jim Melloan. "The expansion of the list has allowed us to tell the stories of larger companies, older companies, and a wealth of companies in industries like Manufacturing and Construction that are underreported in the business media. (Inc.com, PR Release, August 23, 2007, New York, NY)
About W3i
W3i delivers proven unconventional marketing solutions. With over 15 million unique users each month, W3i provides a receptive consumer base for customized, targeted marketing programs including software marketing, lead generation, display advertising and product placement. The three Weber brothers, owners of W3i, are recent winners of the Ernst & Young Entrepreneur Of The Year® 2006 Award in the Minnesota and Dakotas region.
W3i Holdings, LLC, was established in 2007 to unite all its business services that were formerly known as Freeze.com, LLC, founded in 2000. Freeze.com continues to be a flagship consumer brand for W3i, along with Ringtone.com, ScreenSaver.com and Wallpapers.com. Today W3i employs more than 60 Internet professionals in central Minnesota. To learn more about W3i, visit W3i.com .
About Inc.
Inc.com, the Daily Resource for Entrepreneurs, delivers advice, tools, breaking news, and rich multimedia to help business owners and CEOs start, run, and grow their businesses more successfully. Information and advice covering virtually every business and management task, including marketing, sales, finding capital, managing people can be found at inc.com. Complete information on this year's Inc. 5,000, can be found at inc.com/inc5000.
###