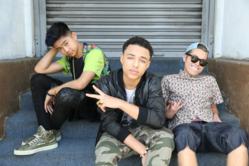 First group signed by Lil' Wayne to Young Money.
Los Angeles, CA (PRWEB) May 09, 2013
Superstar Lil Wayne has officially announced that W3 the Future has signed to the Young Money Label. The video announcement can be viewed here: http://youtu.be/8XS7iQegjDI.
W3 The Future, also known as WTF, is an international urban pop group consisting of three teenage friends (3siXT, DG, and Edge One). They are the very first group to sign a deal with Young Money Entertainment.
Young Money's President, Mack Maine, announced today that W3 The Future has signed to the label. The group is currently working on their upcoming debut album. W3 The Future are scheduled to tour with Lil Wayne, T.I. and Future on the America's Most Wanted Tour this coming July. W3 The Future is set to change the future of music.
For more information about the band, visit their website at http://www.w3thefuture.com/ or subscribe on YouTube http://www.youtube.com/user/W3TheFuture.