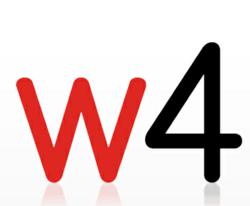 "We funded our seed and angel rounds personally, and have already achieved sustained profitability," said Wicks Walker
Santa Monica, CA (PRWEB) June 20, 2011
In only in its 2nd year operating, W4 has quickly taken a leading position in the results-based online advertising marketplace, drawing customers for its advertisers through social media, paid search, subscriber data and other channels. "Our plans were aggressive," says Jason Durant Walker, the young company's CEO who has been in the business for more than a decade, "but we actually outpaced our start-up estimates within months. We are growing more than four times faster than our last company."
Silicon Valley Bank plays a key role as W4's revenues grow rapidly. "We funded our seed and angel rounds personally and have already achieved sustained profitability," said Wicks Walker, co-founder of W4. Rapid revenue growth caused cash demands to grow briskly. He continues, "Internet advertising companies use significant cash resources since web publishers require payment sooner than in other markets. On-line, we are buying or committing to buy media inventory in advance of receiving payment from advertisers."
"It was a relief to find such a great and world class bank as a home for our company," Walker explained. "Silicon Valley Bank understood our situation perfectly, and had the ability to appreciate our new but quickly growing company." Recently, the bank agreed to lend W4 $10 million, a significantly larger deal than the original $1 million it brought to the table. The bank also provides its automated electronic payment processing solutions for W4, as well handling its deposit business. "I didn't think they had all the bells and whistles other banks do, but was pleased to find that they had everything we needed…and they actually do it better."
"We're really pleased to be working with the team at W4. They have made tremendous strides in a short period of time to deliver leading online marketing solutions to advertisers and publishers," said Stephen Hughes of Silicon Valley Bank's Los Angeles office. "We look forward to continuing to support their success."
W4's founding group has extensive experience in the online advertising industry, first coming together to build Hydra, which they placed 10th on the 2007 Inc 500® list of fastest growing private companies in the U.S. Three of Hydra's founders are founders of W4. Abby Whitridge, co-founder and COO of W4, who previously ran Hydra Network's operations and worked at Intermix (MySpace) in their early years, says being a principle partner in W4 has given her the kind of control she always wanted. Abby explained, "I got excited about starting W4 because we saw an opportunity in the online performance ad market to set new standards publishers and advertisers could believe in. Both advertisers and affiliates want trust, reliability, and an appropriate amount of transparency in a market that can be tough to monitor."
About W4
W4 operates an online advertising marketplace at w4.com that provides result-based advertising solutions to advertisers, and traffic monetization solutions for its publishing partners in social media, search, display, subscriber email and other channels. More information can be found at http://www.w4.com.
About SVB Financial Group
For 25 years, SVB Financial Group and its subsidiaries, including Silicon Valley Bank, have been dedicated to helping entrepreneurs succeed. SVB Financial Group is a financial holding company that serves companies in the technology, life science, venture capital/private equity and premium wine industries. Offering diversified financial services through Silicon Valley Bank, SVB Analytics, SVB Capital, SVB Global and SVB Private Client Services, SVB Financial Group provides clients with commercial, investment, international and private banking services. The Company also offers funds management, broker-dealer services, asset management and a wide range of financial services for companies of all sizes and stages, as well as the added value of its knowledge and networks worldwide. Headquartered in Santa Clara, California, SVB Financial Group operates through 27 offices in the U.S. and five internationally in China, India, Israel and the United Kingdom. More information on the Company can be found at http://www.svb.com.
###