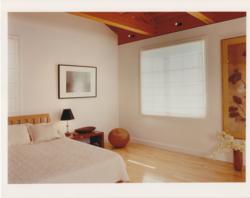 Wabi-sabi can be roughly translated as 'rustic,' but it is as difficult to define as the word 'music.'
San Francisco, CA (Vocus/PRWEB) April 27, 2011
At an intimate "360 Presentations" gathering in Bernal Heights this month, Andre Rothblatt, a San Francisco residential architect, helped clear misconceptions people have about the Japanese design aesthetic: wabi-sabi. Beyond a description, Rothblatt shared his passion for this art that celebrates the beauty of things imperfect, simple and unconventional and appreciates the integrity of natural objects and processes—and how it influences his personal architectural style.
Rothblatt differentiates the Japanese wabi-sabi, which is enigmatic and defies definition, from the Chinese aesthetic feng shui, which is a defined system of flows. He interprets the wabi-sabi philosophy in his designs by simplifying spaces to reveal the beauty of their natural essence.
"Wabi-sabi can be roughly translated as 'rustic,' but it is as difficult to define as the word 'music,'" said Rothblatt. "Wabi-sabi is a concept that guides one's perception to find great beauty in the poetry of simple objects and an appreciation for how the effects of time and forces of nature can enhance the beauty of objects."
Feng shui, which has been en vogue in the Bay Area for many years now, is a Chinese tradition where buildings and spaces are systematically designed in order to maximize the flow of qi (life force). There are many schools of feng shui, which use a complex combination of varied factors like elements, yin and yang, numerology, directions, time and other measurements to create an astrological chart that reveals positive and negative auras of a building.
Rothblatt says wabi-sabi has no set system to follow. It can be as simple as the crackling leaves in autumn, a chip in a vase, or the way the elements have aged a piece of driftwood. The paradox of wabi-sabi is inherent in itself; as with the first line of the Tao Te Ching, which states: "The Tao that can be spoken is not the true Tao," the same is true with wabi-sabi. It requires contemplation, meditation and then silence to get a better understanding.
In his renowned book Wabi-Sabi for Artists, Designers, Poets & Philosophers, Leonard Koren sees wabi-sabi in "the way rice paper transmits light in a diffuse glow. The manner in which clay cracks as it dries. The color and textural metamorphosis of metal when it tarnishes and rusts. All these represent the physical forces and deep structure that underlie our everyday world."
Taking a list of wabi-sabi material qualities from in Koren's book, Rothblatt interprets these tenets as he incorporates them in his architectural practice as follows:
Wabi-Sabi Qualities / Rothblatt's Architectural Interpretations
Irregular / Handmade, quirky and asymmetrical
Intimate / Small spaces, of human scale
Unpretentious / Honest use of material, free from ornament
Earthy / Made with natural materials, unprocessed
Murky / Enigmatic, mysterious
Simple / Pared down to its bare essence
"What wabi-sabi looks like in my work can best be described as simplicity. I engineer each space with craftsmanship and employ natural materials such as wood to create a holistic environment that's not cookie-cutter or slick. It's my hope that my designs feel comfortable, natural and warm," Rothblatt explains. "People describe my work as restrained and simple, even boring, but to me there's a purity to stripping down a space to its bare essence, eschewing ornamentation, and leaving what is needed and meaningful."
For more information about wabi-sabi or any of Andre Rothblatt's services, call him at (415) 503-9655 or visit his website at andrerothblattarchitecture.com.
About Andre Rothblatt Architecture
Andre Rothblatt Architecture is an award-winning San Francisco architecture firm located in the San Francisco Design Center. Rothblatt graduated from UC Berkeley with a BA in Architecture in 1983 and has been actively involved in professional practice for more than 20 years. Formerly a licensed building contractor, he established his San Francisco residential architecture office in 1993. His work has been published in Sunset Magazine, House Beautiful, and Fine Homebuilding, as well as featured on HGTV.