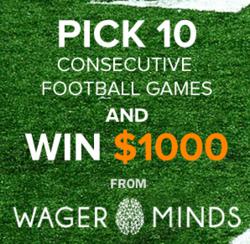 Buffalo, NY (PRWEB) October 20, 2011
Good at predicting football game outcomes? If so, WagerMinds is challenging all handicappers in a Pick 10 Football picks contest. It's easy to play and the rules are simple: pick 10 consecutive football games from now until the end of the 2011 season and take home a cash prize of $1,000!
Anyone can play
The contest is open to anyone that registers for a free account on WagerMinds.com. Users are simply required to pick which teams to win each game against the spread – NFL or college or a combination of the two – then monitor and track results. Picks can be chosen completely based on data, analytics and science, or choosen randomly – by cities, mascots or the team with the best looking players.
Start playing anytime during the season
Enter the Pick 10 contest at any time during the regular season and just pick 10 in a row. If 10 games in a row are accurately predicted, WagerMinds will send out a check for $1,000. All selections must be logged in via a WagerMinds profile and will be graded by the WagerMinds automated system which uses a consensus Vegas line and final scores provided directly by the major sports media.
Challenge friends, family & co-workers
Invite friends, family & co-workers to play and let the real-time leaderboard keep track of games and picks throughout the season.
10 isn't easy, but it's doable
There are talented people in the WagerMinds handicapping community that can post 10 against the spread (ATS) victories in a row. Sign up today and and WagerMinds will be looking forward to sending out a check to the winner.
Good luck! Register today at http://www.WagerMinds.com. For full contest details, visit the official Pick 10 Contest page.
About WagerMinds
WagerMinds is a sports betting website dedicated to transforming the sports betting culture through rich, high quality data, in-depth analytics and transparency to the industry. Sports fans create personal profiles on WagerMinds.com to place hypothetical wagers on any type of major sporting event such as football, basketball, baseball and hockey, using real consensus Vegas lines. WagerMinds.com tracks the results for each and every WagerMinds user, allowing skilled sports handicappers to prove their betting ability. The better the record, the higher the WagerMinds rank. Learn more at http://www.WagerMinds.com.
###