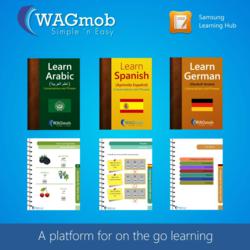 You're never too busy or too old to learn a language. You can always learn on-the-go using Simple 'n easy eBooks at Samsung's Learning Hub.
Seattle, WA (PRWEB) May 31, 2013
You're never too busy or too old to learn a language.
You can always learn on-the-go using WAGmob's Simple 'n easy eBooks at Samsung's Learning Hub.
WAGmob today announced that it has successfully published more than 300 Simple 'n easy enhanced eBooks, for language learning, at Samsung Learning Hub.
Some of the end user comments for Simple 'n Easy eBooks for language learning include:
Simple & easy to learn (a user from UK)
Awesome content (a user from France)
Really worth it....for a beginner (a user from India)
Good for beginners (a user form Singapore)
Bien pour apprendre (a user from France)
You can see a full list of eBooks via pdf locaed at:
http://www.wagmob.com/samsunglearninghub.pdf
Following enhanced eBooks are available for the English speakers:
Learn English Conversation and Phrases
Learn English Visual Dictionary
Learn Spanish Conversation and Phrases
Learn Spanish Visual Dictionary
Learn Italian Conversation and Phrases
Learn Italian Visual Dictionary
Learn French Conversation and Phrases
Learn French Visual Dictionary
Learn German Conversation and Phrases
Learn German Visual Dictionary
Learn Arabic Conversation and Phrases
Learn Arabic Visual Dictionary
Learn Korean Conversation and Phrases
Learn Korean Visual Dictionary
Learn Russian Conversation and Phrases
Learn Russian Visual Dictionary
Learn Japanese Conversation and Phrases
Learn Japanese Visual Dictionary
Learn Chinese Conversation and Phrases
Learn Chinese Visual Dictionary
Learn Portuguese Conversation and Phrases
Learn Portuguese Visual Dictionary
Similar enhanced eBooks are available for the following speakers:
Spanish Speakers
French Speakers
Italian Speakers
German Speakers
Portuguese Speakers
Arabic Speakers
Dutch Speakers
Danish Speakers
Norwegian Speakers
Finnish Speakers
Indonesian Speakers
Swedish Speakers
Turkish Speakers
Thai Speakers
With WAGmob enhanced Ebooks and Samsung Learning Hub it's never too late to continue your education.
Samsung smartphone and tablet users can get Learning hub from content.samsung.com
### About WAGmob ###
WAGmob is a digital publishing platform for on-the-go learning. The platform is being leveraged by publishers, businesses and authors to create, amplify and distribute interactive digital learning content.
The platform breaks learning into bite sized chunks and offers each part as a "snack". The platform incorporates 7 elements to promote on-the-go learning. Tutorials, Quizzes, Flashcards, Videos, Labs (Step by Step instructions), Games (Quiz and memory challenge), and Activity Zones (Drag and drop, Pinch and Zoom, Draw and label),
The platform runs on all in-market smartphones, tablets and eReaders: 1) Apple: iPhone, iPad, iBook, Mac 2) Windows: Smartphone, Tablet, PC 3) Samsung Android: Apps and Learning Hub eBooks 4) Google Android: Apps and eBooks 5) Amazon Android: Kindle fire Apps 6) Barnes and noble Android: nook Apps 7) Black Berry: Apps for Smartphone and Tablet 8) eReader: nook and Kindle 9) Web browsers: IE, Firefox and Safari.
More than a million consumers have purchased a simple 'n easy app or eBook.
For more information, please email us at team(at)WAGmob(dot)com or visit us at WAGmob.com.