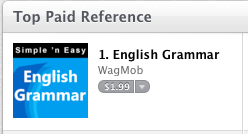 Thank you Apple Mac customers for your trust in WAGmob. We guarantee 100% satisfaction.
seattle, WA (PRWEB) October 19, 2012
WAGmob today announced that #1 paid reference app on Apple Mac store is from WAGmob.
The app is 'English Grammar' by WAGmob.
You can download the app via this link.
The app helps you understand the grammar basics in a nice and organized manner.
Features of the App include tutorials, quizzes, and flashcards.
About WAGMob:
WAGmob is a platform to create, amplify and distribute simple 'n easy apps for on-the-go learning.
WAGmob builds Simple 'n Easy apps for on-the-go learning for K1 to K12, college and professional learning needs. WAGmob has more than 600,000 paying customers and has partnership with publishers, OEMs and telecom operators.
WAGmob believes in the power of touch and visual learning to effectively promote Math, Science and English education in USA.
WAGmob's mission is to have a simple 's easy WAGmob app in every hand.
Customers from more than 175 countries have bought WAGmob apps. 50% of WAGmob's revenue is from the international markets.
WAGmob apps work on all in-market smartphones and tablets including iPhone, iPad, Android phones and tablets, Blackberry phones and tablets, Windows phone and Windows 8 PC and surface tablets.