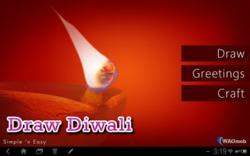 This app represents hard work, focus and customer commitment of the WAGmob team
seattle, WA (PRWEB) November 12, 2012
WAGmob today announced availability of Draw Diwali app.
Diwali is about celebration of lights, colors and art. The Draw Diwali app from WAGmob allows end users to draw Diwali art and greetings on their tablets and share same with friends and family.
The app enables users to draw colorful digital rangolis and post them on facebook. The app also provides tutorials on how to make colorful lanterns and allow users to send Diwali greetings.
"This app represents hard work, focus and customer commitment of the WAGmob team"
"This app demonstrates our commitment to serve WAGmob customers. At WAGmob we start our day with the customer feedback and end our day thinking about what we need do next to transform learning experience of our customers." said Kalpit Jain, founder of WAGmob.
About WAGMob:
WAGmob is a platform to create, amplify and distribute simple 'n easy apps for on-the-go learning.
WAGmob builds Simple 'n Easy apps for on-the-go learning for K1 to K12, college and professional learning needs. WAGmob has more than 700,000 paying customers and has partnership with publishers, OEMs and telecom operators.
WAGmob believes in the power of touch and visual learning to effectively promote Math, Science and English education in USA.
WAGmob's mission is to have a simple 's easy WAGmob app in every hand.
Customers from more than 175 countries have bought WAGmob apps. 50% of WAGmob's revenue is from the international markets.
WAGmob apps work on all in-market smartphones and tablets including iPhone, iPad, Android phones and tablets, Blackberry phones and tablets, Windows phone and Windows 8 PC and surface tablets.