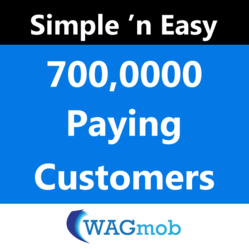 nothing delights WAGmob team more than getting 5 stars from our paying customers
Seatle, WA (PRWEB) November 30, 2012
WAGmob today announced that more than 700,000 customers from 175 countries have bought one or more of WAGmob's 200+ apps and 20 e-Books, for on-the-go learning.
With average ratings of 4+ WAGmob continues to delight mobile users with its on-the-go learning apps and e-books.
WAGmob continues to do fast track innovations for mobile learning in Math, Science, Language, English, Engineering, Medicine, Law, Code and Business domains.
"We come to work to serve our customers with passion and integrity and nothing delights WAGmob team then getting 5 stars from our customers".
"We begin every morning by looking at customer feedback and ratings from all over the world and end by doing our best to close the feedback loop with our customers".
said Kalpit Jain, founder and CEO of WAGmob.
Some of the recent 5 start comments include
"really like the material you have added keep it coming :)"
"This is an amazing app. I love it. I hope you all continue supporting it"
"Great for non medical students (general public) who want to increase their knowledge in dentistry before a visit or as a personal endeavor."
About WAGMob
WAGmob is a platform to create and amplify simple 'n easy apps and e-books for on-the-go learning.
WAGmob builds Simple 'n Easy apps and e-books for on-the-go learning for K1 to K12, college and professional learning needs. WAGmob has more than 700,000 paying customers and has partnership with publishers, OEMs and telecom operators.
WAGmob believes in the power of touch and visual learning to effectively promote Math, Science and English education worldwide.
WAGmob's mission is to have a simple 'n easy WAGmob app in every hand.
Customers from more than 175 countries have bought WAGmob apps. 50% of WAGmob's revenue is from the international markets.
WAGmob apps work on all in-market smartphones and tablets including iPhone, iPad, Android phones and tablets, Blackberry phones and tablets, Windows 7 and 8 phones.
WAGmob also publishes learning apps on Mac desktop via Mac app store and Windows 8 desktop via Windows 8 stores.
WAGmob apps are available via 1) Google Play Store 2) Samsung App Store 3) Barnes and Noble Nook store 4) Amazon Kindle store 5) Apple App Store for iPhone and iPad 6) Apple iBook store 7) Blackberry App Store 8) Nokia Ovi App Store 8) Window phone store and 9) Windows 8 store for phones and tablet.