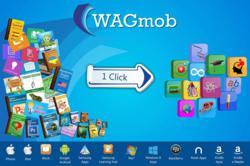 publish a book in a native format to 10 different mobile platforms via one-click
Seattle, WA (PRWEB) April 15, 2013
WAGmob, today announced that it will be showing one-click automation solutions for book publishers at the London Book Fair.
"It is possible to publish a book in a native format to 10 different mobile platforms via one-click using WAGmob digital publishing technology." says Kalpit Jain, founder of WAGmob.
Using WAGmob technology book publishers can easily convert books into interactive e-books or companion apps for the following platforms:
1. Samsung Learning Hub eBook
2. Apple iBook
3. Apps for iPhone, iPad
4. Apps for Mac
5. Apps for Google Play,
6. Apps for Amazon Kindle
7. Apps for Samsung App store
8. Apps for Barnes and Noble nook
9. Apps for Windows phone 8 and Windows 8 tablet
10. Books for Kindle and nook eReaders
11. Apps for Blackberry phone and tablet
WAGmob is unique in a way that it has published apps and eBooks on more than 10 platforms. Now publishers can take advantage of WAGmob technology and essentially have one partner that can serve eBook or app publishing needs." Said Kalpit Jain, founder of WAGmob.
WAGmob will be showing following three automation demos at the London book fair
1) From PDF to Samsung Learning Hub eBook via one-click automation
2) From word to iBook via one-click automation
3) From XML to app store web-form submission via one-click automation
WAGmob is a platform to create and amplify simple 'n easy apps and e-books for on-the-go learning. WAGmob has more than 1,000,000 paying customers and has partnership with publishers, OEMs and telecom operators.
WAGmob believes in the power of touch and visual learning to effectively promote on-the-go learning.
WAGmob has also published a white paper for book publishers which can be downloaded here.