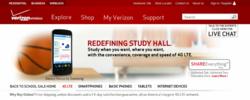 I was super proud to see WAGmob apps in the Olympic ad said founder of WAGmob
Seattle, WA (PRWEB) August 03, 2012
WAGmob, A leader in the mobile apps for on-the-go learning today announced that Verizon Wireless, #1 US mobile operator, is showcasing WAGmob applications for its back to school campaign via web, TV and print ads.
"I was watching Michael Phelps win 19th medal in the Olympics and next moment I saw an ad from Verizon. I was super proud to see one of the WAGmob apps in the Olympic ad" said Kalpit Jain, founder of WAGmob.
You can see Verizon TV commercial showing WAGmob's app here:
http://www.youtube.com/watch?v=t_Vjqc5Gs_c&feature=share.
At 0.7 second in the Ad you will see a WAGmob app.
You can also see Verizon promoting WAGmob's Anatomy app here: http://specialoffers.verizonwireless.com/back-to-school/?cmp=ILC-BTS2012-HPMQ#4g
About WAGMob
WAGmob builds Simple 'n Easy apps for on-the-go learning for K1 to K12, college and professional learning needs. WAGmob has more than 500,000 paying customers and has partnership with publishers, OEMs and telecom operators.
WAGmob believes in the power of touch and visual learning to effectively promote Math, Science and English education in USA.
WAGmob's mission is to have a simple 's easy WAGmob app in every hand.
Customers from more than 175 countries have bought WAGmob apps. 50% of WAGmob's revenue is from the international markets.
WAGmob apps work on all in-market smartphones and tablets including iPhone, iPad, Android phones and tablets, Blackberry phones and tablets, Windows phone and even upcoming Windows Surface.
You can see all on-the-go learning apps from WAGmob here:
http://www.wagmob.com/allfile.aspx