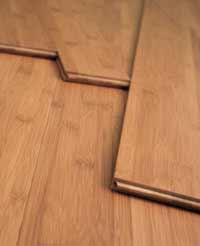 Rogue River, OR (PRWEB) November 08, 2012
With the increased popularity of bamboo as an economic and ecological flooring choice, moisture meter manufacturers for wood flooring applications have also been addressing this new and exciting material.
Bamboo is a grass, not a true wood, and numerous factors – from the growth region and the harvest timing to the manufacturing process and assembly method - can greatly impact the density of the finished end product. As such, it has been a challenge for moisture meter manufacturers to set specific gravity density tables that accurately reflect the moisture content in any bamboo flooring product.
Wagner Meters, world leader in moisture management products, has been working in partnership with two major flooring manufacturers, Johnson Hardwood Flooring and Teragren Bamboo Flooring, for the past 18 months. This collaboration has helped us to correctly determine accurate moisture meter specific gravity tables for their bamboo flooring products.
Samples were lab-tested using the ASTM D4442-92 oven-dry method, and specific gravity settings for each flooring product were established. We are pleased to make these settings available to everyone at wagnermeters.com/bamboo.php. These settings will ensure accurate moisture content measurements for each of these manufacturers' Bamboo Flooring products.
As every professional flooring installer knows, accuracy is crucial for beautiful, durable hardwood flooring installations. Now your bamboo floors can be installed using your Wagner Meters wood moisture meter with the same assurance, with tested and proven specific gravity settings for Johnson and Teragren bamboo flooring products.
With advanced technology, accurate measurements and warranties that reflect their reputation, Wagner Meters' full line of moisture measurement tools offers a solid investment for your workplace. To learn more, visit http://www.wagnermeters.com.
About Wagner Meters
For over 40 years, Wagner Electronics has been recognized as the world leader in providing advanced moisture measurement and management solutions to the construction industry. We offer a variety of meters designed to measure the moisture in wood products for both small and large scale productions as well as pH and RH measurement for concrete installations. Learn more about Wagner Meters at http://www.WagnerMeters.com or connect with us on Facebook or Twitter