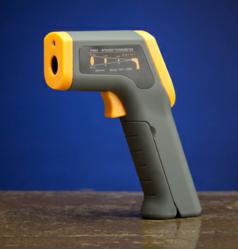 Rogue River, OR (PRWEB) November 05, 2012
Wagner Meters continues to work towards providing vital information for all flooring-over-concrete-slab installations with their new Infrared Thermometer. This brand-new product is designed to provide precise data to determine the readiness of your concrete slab for flooring installation.
Precision is critical for durable flooring installation. While ideal conditions cannot always be guaranteed on a building site, the Rapid RH® line of concrete moisture meter and readiness products by Wagner Meters offer professionals complete and accurate facts to assess current conditions both within the concrete slab and around it.
The new Infrared Thermometer is a lightweight, pistol-style thermometer that allows the concrete or flooring professional to rapidly assess the temperature of a concrete slab surface. Installing flooring on a poorly prepared slab can result in a wide variety of failures such as cupping, adhesive failure, buckling and more. To avoid flooring failures, properly measuring pH, Relative Humidity (RH) and temperature prior to installation is critical. The new Infrared Thermometer from Wagner Meters rounds out a suite of high-quality measurement tools for flooring installers.
Custom-set your Infrared Thermometer for Celsius or Fahrenheit readings, with or without target light guidance. From the innovative original Rapid RH® to the new Infrared Thermometer, complete information ensures informed decisions and ideal outcomes.
With advanced technology, accurate measurements and unsurpassed customer service, Wagner Meters' full line of moisture measurement tools offers a solid investment for your workplace. To learn more, visit http://www.rapidrh.com.
About Wagner Meters
For over 40 years, Wagner Electronics has been recognized as the world leader in providing advanced moisture measurement and management solutions to the construction industry. We offer a variety of meters designed to measure pH and relative humidity for concrete installations. Learn more about Wagner Meters at http://www.WagnerMeters.com or connect with us on Facebook or Twitter.