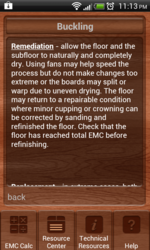 Rogue River, OR (PRWEB) October 27, 2012
Wagner Electronics is pleased to announce the availability of their new "WoodH20" Android Application in the Google Play Store. Now in a convenient package, this tool is created to help you calculate the Equilibrium Moisture Content (EMC) for your woodworking project and answer other wood-related questions. This app, coupled with a Wagner moisture meter, is a great tool for any type of woodworking, wood flooring, or hobby wood project.
Any woodworker will tell you, the right tools for the right job are imperative to turning out a top-shelf product. The Wagner Meters WoodH20 app for Android Devices puts complicated calculations at your fingertips, saving you time and headaches. Simply enter the relative humidity and ambient temperature, and the Equilibrium Moisture Content is calculated on the fly. EMC is an important measurement; if wood is not at its Equilibrium Moisture Content, it may crack, warp, or pull apart the project it was used in. Learn more about this app and EMC at WagnerMeters.com/AndroidEMCApp
A flooring contractor uses a wood moisture meter to verify that the moisture content of the flooring matches it's EMC before installation. If the moisture content is too high at installation, a hardwood floor could buckle or cup. Too low, and the flooring could crack or pull apart. Waiting until the conditions are just right is the key to a smooth and professional finish. A woodworker would use the application for the same purpose; to be sure their project comes together nicely, without worrying about after-completion material movement.
Along with EMC calculations, the app is designed to give tips on how to deal with many woodworking obstacles such as buckling, crowning or cupping, adhesive failure, sunken joints, and much more. The app also provides easy access to Specific Gravity settings, Wagner Meter manuals and other resources to help ensure project success.
Wagner Meter's Wood20 App for android is designed to take the "guesswork" out of measuring and calculating EMC for all types of woodworking projects. This app is free, and a must-have for any woodworker or flooring installer. Download it from the Google Play Store today.
About Wagner Meters
For over 40 years, Wagner Electronics has been recognized as the world leader in providing advanced moisture measurement and management solutions to the construction industry. We offer a variety of meters designed to measure the moisture in wood products for both small and large scale productions as well as pH and RH measurement for concrete installations. Learn more about Wagner Meters at http://www.WagnerMeters.com or connect with us on Facebook or Twitter.