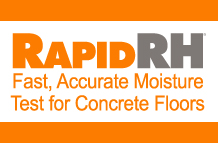 breakthrough scientific data that challenges some beliefs regarding traditional methods for moisture testing of concrete slabs
(PRWEB) September 28, 2011
In this free e-course, Kanare presents breakthrough scientific data that seriously challenges what some concrete contractors have believed regarding traditional methods for moisture testing of concrete slabs.
From the variety of relevant topics for the concrete industry, this recorded webinar will cover most important aspects of:

the history of calcium chloride testing and why the concrete moisture industry is trending away;
moisture meter related problems;
the best method for predicting floor and adhesive system performance;
issues with reusable probes;
the science behind relative humidity as a test method;
With hundreds of millions of dollars spent each year in costs related to flooring failures, understanding concrete moisture conditions and knowing the best tools the industry has to offer are the two concepts that may stand between you and the next flooring failure.
The free educational webinar is scheduled for Oct 6, 1:00pm Eastern time, is available by invitation only and seating is limited. For your invitation, contact Wagner Meters by visiting the Moisture Webinar website. You may also email rapidrh(at)wagnermeters(dot)com or call 541-582-0541 or for more information.
About Wagner Meters:
World leader in moisture measurement technology for over 45 years, Wagner Meters is also the world leader in concrete moisture measurement using Relative Humidity Testing Continually innovating, Wagner Meters designed the first solid-state, non-contact, in-line moisture detector and today sets the worldwide standard for accuracy and reliability with their hand-held pinless wood moisture meters.
# # #