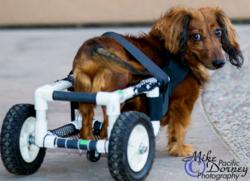 Dorney said ," it makes me feel good to do something that might help shelter animals find loving homes."
(PRWEB) November 29, 2012
Within the past year WAGS™ has adopted out just under 800 animals'. WAGS™ has had several pet adoption specials that have helped to make 2012 a great year. 2012 goal is to reach 1,000 adopted animals. As WAGS ends the year reflecting back on the accomplishments but WAGS is still in need of donation of time, cash or food at http://wagspetadoption.org
WAGS is thankful to all those that have helped in 2012 to give these animals homes, fostering, food, toys and so much more as they wait to get adopted. WAGS animals are S.A.V.E.D.™- because of you™- Sponsor-Adopt-Volunteer-Educate-Donate™.
The owner of Pacific Photography in Westminster CA recently volunteered his time to photograph WAGS animals to help showcase the adorable personalities of each animal.
When asked why Dorney donated his time Dorney reply was "Having rescued more than 10 animals, it makes me feel good to do something that might help shelter animals find loving homes."
WAGS (Westminster Adoption Group & Services) was founded by Dr. Tia Greenberg. WAGS services the City of Westminster. WAGS houses and cares over 1200 stray and unwanted animals annually. WAGS Pet Adoption has celebrated so many wonderful adoptions within the past year and hopes to make 2013 even better.
Westminster Adoption Group and Service's mission is to provide the best quality of care, advocacy and shelter for lost and homeless animals seeking new permanent loving homes. The core values are: low euthanasia rates, permanent placement, advocacy, safe shelter, respected volunteers and continuous improvement to all services provided. The organizationl strives to be not only an animal adoption service but a community resource for the people of Westminster and surrounding communities.
Dr. Greenberg welcomes all to visit WAGS Pet Adoption http://wagspetadoption.org or call &14-887-6156 ask to speak with Cortney -- Tuesday- Sunday 12-5pm. Come visit WAGS today to bring home your next pet.