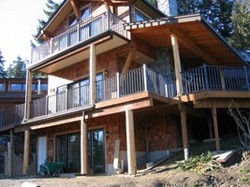 A fire-rated deck board is no good when it's attached to a lumber frame. Aluminum deck joists and aluminum railing give the homeowner the option of building a truly non-combustible deck.
Gainesville, GA (PRWEB) October 10, 2009
Wahoo Decks, a leading manufacturer of aluminum decking products, has received approval from California and San Diego County for use of its deck products in WUI designated areas, including its aluminum deck board, AridDek, its aluminum, structural deck drainage system, DryJoist and its aluminum rail system, Wahoo Rail. Each product is non-combustible and fire-safe and is approved by the Wildland-Urban Interface (WUI) for being constructed with Ignition Resistant Materials. A Wildland-Urban Interface area is a geographical area identified by the state as a "Fire Hazard Severity Zone".
AridDek is an aluminum deck board with a tongue-in-groove design that provides a beautiful, low-maintenance deck surface while incorporating an integrated gutter system to create a dry, usable area under the deck. The textured powder coating provides a safe, non-skid surface that naturally stays cooler to the touch than traditional decking planks. It's a decking surface and a waterproof barrier in one step.
"There has been a tremendous effort in recent years to develop fire-resistant deck boards for use in wildfire-prone areas but none of the new composites are truly non-combustible," said Jon Bailey, Vice President of Wahoo Decks. "Aluminum deck boards give homeowners the truly non-combustible deck board option they've been looking for."
DryJoist and DryJoistEZ, Wahoo Decks' newest product, are the first and only structural deck drainage systems. When assembled, they create much of the structure of the deck, a finished ceiling and a waterproof space below - all in one system. Made of marine-grade aluminum, the system is strong enough to replace the need for conventional wood joists and is impervious to rot, insects, mildew, and fire. Most types of deck boards can be fastened to the system in any direction without the need for extra blocking making it easier to create custom deck surfaces and design options.
"Improving the deck surface seems to have been the focus of the industry in recent years and the framing system of a deck has traditionally been overlooked," said Bailey. "A fire-rated deck board is no good when it's attached to a lumber frame. Aluminum deck joists and aluminum railing give the homeowner the option of building a truly non-combustible deck."
Wahoo Rail is a commercial grade, aluminum deck rail system that not only offers enduring beauty but is maintenance free, long lasting and cool to the touch - it will never rot, splinter or lose its structural integrity. It can be used as a replacement rail system on an existing deck or used in new construction regardless of the materials that were used to construct the deck. It will not compromise the waterproof deck barrier when paired with either DryJoist or AridDek. And when added to either of these systems, Wahoo Rail completes the truly fireproof deck structure.
Wahoo Decks products will not appear on the list of certified WUI products as this list is only for combustible products that meet WUI standards and, since Wahoo products are made entirely from non-combustible elements, are by their very nature WUI certified.
In addition to being WUI approved, AridDek, DryJoist and Wahoo Rail assist builders in achieving points toward LEED credits based on the standards set forth by the LEED Green Building Rating System within the categories of Recycled Content of Materials and Construction Waste Management.
About Wahoo Decks
Headquartered in Gainesville, Georgia, Wahoo Decks is a leading manufacturer of award winning outdoor decking products. Wahoo products have been engineered to be uniquely low maintenance and more resistant to natural elements than traditional decking products. Additional information about Wahoo Decks can be found on http://www.WahooDecks.com.
More information about the Wildland-Urban Interface can be found on http://www.fire.ca.gov/fire_prevention/fire_prevention_wildland.php
###