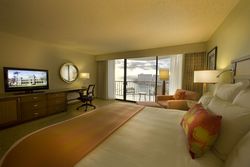 10 Hotels Where Every Day is Earth Day
Honolulu (Vocus) September 2, 2008
Waikiki Beach Marriott Resort & Spa (http://www.marriottwaikiki.com), the recipient of the U.S. Environmental Protection Agency's ENERGY STAR award for three consecutive years and recently recognized on Travelocity's IgoUgo.com list of "10 Hotels Where Every Day is Earth Day," has completed a $28 million guestroom renovation project to its oceanfront Kealohilani Tower.
WAIKIKI HOTEL WITH NEWLY REDESIGNED GUESTROOMS
In the oceanfront Kealohilani Tower of the Waikiki beach resort, 605 guestrooms and suites feature "beach house" inspired interiors that reflect a stylish and fresh Hawaii residential feel and look. The interior design by Creative Resource Associates, Inc. of California includes granite tops and birch wood furnishings, as well as splashes of vibrant color accents, prints and textures that relax visitors with the warmth and essence of the islands.
"From the moment guests step off the elevators and walk through the hallways, they will experience dramatic enhancements that offer a fresh, island sense of place," said Chris Tatum, general manager of Waikiki Beach Marriott Resort and Spa.
Key aspects of the newly redesigned guestrooms and suites in this Honolulu hotel include:

Wireless high-speed Internet access.
Technology-packed remote jack pack located at the front of the birch wood console to easily connect digital technology (i.e video camera, laptop, and iPod, etc.) to the television.
37-inch flat-screen, high definition LG television.
Granite top television console, desk, nightstands and free-standing bathroom vanity with center sink.
Birch wood-framed headboard with built-in adjustable reading lights, complimented by a coral fabric-covered bed bench.
Ergonomic desk task chair.
Patio chaise lounge, chair and table for the ultimate in relaxation on private lanai (balcony), with picturesque views of Diamond Head, Waikiki Beach and famed Kalakaua Avenue.
Extra wide lounge chair and ottoman, providing relaxing seating area for added comfort.
Island-inspired surf and Waikiki beach framed artwork as well as wall paintings depicting nostalgic Honolulu and surfing scenes.
Marriott's "Revive" bed and linen collection.
In addition to the enhancements in the Kealohilani Tower, the Waikiki beach resort's Paoakalani Tower features new guestroom amenities, including a 37-inch HDTV, jack pack, and mini refrigerator.
"The Kealohilani Tower, with its fresh new additions, is the best place for guests to experience all our Oahu resort has to offer," said Tatum. "It's an exciting time as guests will also delight in Paul Brown's Spa Olakino * Salon, the 24-hour fitness center, award-winning sushi creations at Sansei Seafood Restaurant & Sushi Bar and d.k Steak House, newly opened Harley Davidson, Hertz Rental Car, and other fine shops and boutiques."
WAIKIKI HOTEL WITH AN ENVIRONMENTAL TWIST
In keeping with the Waikiki beach resort's business model to practice responsible energy consumption and waste reduction, the room renovations feature a green, eco-friendly twist while indulging in the new style and luxurious feel of residential comfort. To implement the latest green features, Waikiki Beach Marriott Resort & Spa retained Group 70 International, a Hawaii-based leader in international sustainable development, and Creative Resources Associates, Inc. of Woodland Hills, California.
"Waikiki Beach Marriott Resort & Spa should be commended for embracing sustainability in every possible aspect of the oceanfront tower renovation," said Norman Hong, AIA, Group 70 vice chairman. "The oceanfront tower is a model for seamlessly incorporating sustainability without compromising luxury."
"Many of our guests inquire about our Hawaii hotel's green initiatives which factor into their decision to stay at our Waikiki hotel," said Tatum.
Prior to the installation of the new furniture and carpeting, the guestrooms were retrofitted with water saving components. Windows in all guestrooms and public space were tinted to help reduce the heat load as well as the demand for increased air conditioning.
Highlights of the Waikiki beach resort's eco-friendly renovation include:

Compact fluorescent light (CFL) bulbs in every guestroom
Four efficient chillers that provide air conditioning
Inn Comm Temperature control thermostat
Air conditioning sensors in guestrooms that turn off the air conditioning when the lanai (balcony) door opens
Tinted lanai doors in every guestroom
Low flow toilets and shower head
Automatic sensors for toilets and sinks in public restrooms
WAIKIKI BEACH MARRIOTT RESORT & SPA fronts the best stretch of Waikiki Beach. Conveniently located in the heart of Waikiki, the hotel offers 1,310 refurbished guest rooms and suites with private lanai providing spectacular views of world-famous Diamond Head and Waikiki Beach. Other amenities include Kuhio Beach Grill, featuring the best in Pacific Rim cuisine; Sansei Seafood Restaurant & Sushi Bar and d.k Steak House; Arancino di Mare Italian Restaurant; Moana Terrace, offering live Hawaiian entertainment nightly; Seattle's Best Coffee; Paul Brown's Spa Olakino * Salon; Faith Riding Company Surf School; two freshwater, heated swimming pools; 10-person whirlpool; 24-hour fitness facility; business center with 24-hour Internet access; high-speed and wireless Internet access throughout the resort's guest rooms and public spaces; shops and boutiques; and Hawaiian cultural activities. For more information, visit http://www.marriottwaikiki.com.
Editor's Note: JPG images of the newly redesigned guestrooms available upon request.
For More Information, Contact:
Jeanne Datz Rice or
Erin Kinoshita
1003 Bishop Street, 9th Floor
Honolulu, HI 96813
(808) 531-0244 phone
(808) 521-7163 fax
E-mail: jeanne.datz.rice@mwc-anthology.com
or erin.kinoshita@mwc-anthology.com
# # #