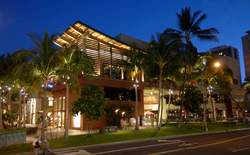 We thank our ancestors for bestowing it to our stewardship, the project team who has restored it, the tenants who have made it a destination without equal and all who visit and fill these grounds with the aloha that makes these lands thrive
Waikiki, Hawaii (Vocus) June 20, 2008
The regeneration of Waikiki took a major leap forward as Royal Hawaiian Center celebrates the completion of an unprecedented $115 million revitalization and expansion of the retail complex. This is the first major renovation to the Center, which spans three city blocks on renowned Kalakaua Avenue, since it first opened in 1979. Visitors can now enjoy 110 places to shop and dine that include the largest concentration of luxury flagship boutiques in Waikiki, 10 anchor restaurants, and a signature showroom and nightclub. A weeklong celebration from June 14 - 20 featured hula and song from some of Hawaii's finest artists, merchant offers, discounts and special products.
"This investment is a tremendous commitment to the visitor industry and the Hawaii community," said Rosalind Schurgin, CEO of The Festival Companies, manager and developer of the Center. "This landmark revitalization brings a treasured piece of Hawaii's history back to life. The new shopping, dining and entertainment options combine world-renowned brands with local and lifestyle retailers. Because of our prominent location and innovative retail mix, our revitalization will make a major impact on Waikiki for years to come."
The result of more than two years of work, the Center's renewed Kalakaua frontage has a softer, elegant look. The expansive new grove with majestic coconut trees and native gardens welcomes all visitors to sit, relax and enjoy the sounds, scents and soft breezes of Hawaii. Enhanced pedestrian-friendly walkways throughout the Center create an open feel while island-inspired furnishings and lush landscaping add to the Center's comfortable and relaxing atmosphere.
With the renovations, the Center has added the largest concentration of flagship stores in Waikiki including 7 for All Mankind, bebe, Bvlgari, Cartier, FENDI, Ferrari, Hermes, Juicy Couture, kate spade, Marciano, LeSportsac, Rolex Kaimana Kea, Salvatore Ferragamo and Tourneau. The entire 4-level Center has been expanded from 290,000 to 310,000 square feet, hosting a total of 110 world-class shops, 10 anchor restaurants and a soon to open state-of-the-art showroom will morph into an ultralounge nightclub.
A wide range of dining options complement the shopping experience. These include P.F. Chang's, The Cheesecake Factory, (the most successful location in the U.S.), Restaurant Suntory, Okonomiyaki Chibo, Doraku Sushi, Paradiso Seafood & Grille, Villa Paradiso, Wolfgang's Steakhouse, Senor Frog's Restaurant & Bar, Beijing Chinese Seafood Restaurant, several sidewalk cafés and the Paina Lanai, a casual dining area with a variety of quick-service restaurant options.
On the fourth level, a new live entertainment venue is launching in mid-July with a state-of-the-art performance theater, including 135-foot wide screens, high wire trapezes and seating for 750 people. Roy Tokujo, a renowned producer for Hawaiian entertainment, has partnered with Realisations of Montreal to create a new acrobatic and musical production called Waikiki Nei. The production takes audiences on a journey through time with the story and history of Waikiki. After hours, the showroom converts to a nightclub and ultra-lounge called Level 4.
Royal Hawaiian Center is owned by Kamehameha Schools, an institution dedicated to providing education to Hawaiian children statewide. The Center is the schools' largest asset and is the only shopping, dining and entertainment destination in Hawaii that directly benefits Hawaiian children.
"We are so excited by what the Royal Hawaiian Center offers to people who come here - a place where all can play and enjoy the magic that once soothed our alii (royalty)," said Dee Jay Mailer, CEO of Kamehameha Schools. "The Royal Hawaiian Center sits on very precious ground which was owned by our founder, Princess Bernice Pauahi Bishop, who bequeathed her lands to her private estate in order to establish the Kamehameha Schools. Educating thousands of Hawaiian children since her passing, the funds from this Center are vital to our mission of education."
"We thank our ancestors for bestowing it to our stewardship, the project team who has restored it, the tenants who have made it a destination without equal and all who visit and fill these grounds with the aloha that makes these lands thrive," said Mailer.
Culture and history play a significant role in Royal Hawaiian Center's identity. The building sits on Helumoa, an area of Waikiki with a rich past - a place where Hawaiian royalty lived and vacationed under the shade of more than 10,000 coconut trees. Accordingly, the Center's island-inspired landscaping accents components of the coconut tree, one of the most useful plants in Hawaiian culture. Different aspects of the plant are used for nourishment and sustenance, boating materials, drums, rope, weaving, and housing materials.
The Center has created the largest open garden space in the heart of Waikiki called The Royal Grove, which features 30,000 square feet of lush ethno-botanical gardens filled with coconut trees, Hawaii's native and indigenous plants, and a bubbling pond reminiscent of Waikiki's original "spouting waters" springs. A bronze statue of Princess Bernice Pauahi Bishop, created by Kamehameha Schools graduate Sean Browne, has been placed in the Center's lush gardens to remind all who visit of her benevolence.
As part of its efforts to perpetuate the Hawaiian culture, Royal Hawaiian Center also hosts free ongoing cultural enrichment programs, providing hands-on experience in learning hula, ukulele, lei-making, Hawaiian quilting, kapa cloth making, lomilomi (Hawaiian healing) and many other Hawaiian traditions.
Royal Hawaiian Center is open from 10 a.m. to 10 p.m. daily. For general information, or details on the free cultural programs schedule, call Guest Services at 808-922-2299 or visit http://www.RoyalHawaiianCenter.com.
To learn more about the Center or its revitalization project, visit http://www.RoyalHawaiianCenter.com.
###