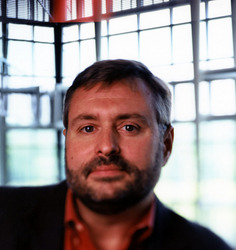 Atlanta, GA (PRWEB) April 8, 2011
Vocalocity, leading cloud-based phone system for small businesses, today announced that Chief Executive Officer Wain Kellum has been nominated by The IndUS Entrepreneurs (TiE) Atlanta for its Southeast Entrepreneur of the Year Award. The organization is part of a global, not-for-profit movement created for the advancement of entrepreneurship.
Kellum joins Reggie Bradford of Vitrue, Mike Cote of Dell SecureWorks and Tom Noonan from JouleX as the four local entrepreneurial visionaries under consideration for the annual award. According to organizers, the award will be given to the individual who has accomplished extraordinary success and demonstrated high commitment to the entrepreneurial community. An individual who is truly "Living the Dream and Giving it Back".
The Entrepreneur of the Year awards culminates the Venture and Innovation Summit held April 13-14 at the Cobb Galleria. The conference brings ten high powered panels with industry expert speakers providing the most powerful Entrepreneurial Summit experience in Atlanta.
More information about award criteria and summit details can be found at http://www.tie-vista.org.
About Vocalocity®
Founded in 2005, Vocalocity is the leading provider of VoIP (Voice over Internet Protocol) communication services for small businesses with fewer than 20 employees. Vocalocity powers thousands of small businesses with its core offering, VocalocityPBX, a hosted PBX solution that provides customers with the quality and reliability of traditional PBX phone systems, with more features, flexibility and cost savings. Vocalocity helps small businesses compete more effectively by providing them with communications services traditionally reserved for larger organizations, at small business prices. For more information about Vocalocity, please visit vocalocity.com or call 877-VOCALOCITY.
# # #