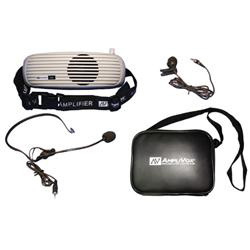 adjustable belt. The BeltBlaster reaches audiences up to 25 people and a room size of up to 350 square feet. Also included are a headset and clip-on lapel mic, each with volume control. Powered by six
Mc Elhattan, PA (Vocus) March 27, 2010
Brodart Supplies & Furnishings, based in McElhattan, PA, adds a new portable no-hands PA system: the AmpliVox® BeltBlaster Waistband Amplifier.
This is public address made simple – a mini PA system that you wear like a belt! With 5-watts maximum sound output, this mini powerhouse is securely fastened to a 44" adjustable belt. The BeltBlaster reaches audiences up to 25 people and a room size of up to 350 square feet. Also included are a headset and clip-on lapel mic, each with volume control. Powered by six "AA" alkaline batteries (not included), the BeltBlaster Waistband Amplifier is ready to help you deliver your presentation with freedom and flair.
Take a closer look at Brodart's AmpliVox® BeltBlaster Waistband Amplifier.
About Brodart Co.
Since 1939, Schools and Libraries alike have turned to Brodart Supplies & Furnishings for everything to keep their libraries running smoothly. From book covers and book supports to kids wall murals, Brodart Supplies & Furnishings is a one stop shop for all your library supplies. From humble beginnings, Brodart has grown to become an international company, serving libraries from the Northwest Territories to the Pacific Rim, with facilities in the United States and Canada. Brodart truly has evolved into a full-service library supply company. For additional information about Brodart Supplies & Furnishings, please visit shopbrodart.com or brodart.ca for our Canadian users, or call 1.888.820.4377 in the United States or 1.800.265.8470 from Canada.
###