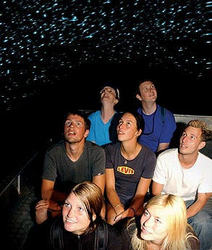 Auckland, New Zealand (PRWEB) June 10, 2009
Waitomo Glow Worm Caves Visitor Centre development has begun with the opening date scheduled for early 2010. The parent company, thl, is investing significantly into this iconic tourism centre which will be the first of its kind in New Zealand, and promises to deliver an even more exceptional experience to visitors.
The caves' visitor centre has been designed to create a minimal intervention environmental building that provides a lightweight canopy to shelter and provide enjoyable facilities to visitors in their journey to and from the glow worm caves. It follows the contours of the land, following the meandering Waitomo stream that lies below.
"This multi-million dollar complex will become an iconic New Zealand tourist attraction in its own right. Waitomo Glow Worm Caves is a uniquely New Zealand experience and we believe this complex will significantly enhance a visitor's experience of Waitomo," says Grant Webster, thl CEO.
The design was inspired by the Waikato River and the association that the locals have with eel catching, incorporating the latest innovation using Teflon-style glass ceilings, allowing visitors to feel part of the outdoor environment whilst still enjoying the convenience and comfort of being indoors.
The new building will offer a variety of facilities and experiences to Waitomo caves visitors, with the aim of further enhancing their overall experience and visit to the unique region. A restaurant spanning 2 levels will seat up to 250 customers, and include exclusive dining area for groups if required. There will also be a 50 seat café for those who want something a bit quicker before or after their visit. Various menu choices will be available; including an all day blackboard menu and a traditional 'kiwi' BBQ buffet lunch for tour groups and FIT's alike.
The retail space that is currently based opposite the main glow worm cave entrance will also be brought into the new complex and will be expanded to provide visitors with a larger variety of gifts and souvenirs. There are also some exciting new entertainment and education facilities planned, which include an exhibition centre and a theatre for customers to view and interact with before their cave tour begins.
While the complex is undergoing development and construction, the stunning Waitomo Glow Worm Cave experience - including the boat ride under a starry sky of glow worms and a tour through a limestone cave that has been around for millions of years - will not be affected and will continue to delight and surprise hundreds of thousands of visitors.
thl is one of Australasia's premier tourism companies. thl owns and operates Waitomo Glow Worm Caves, The Legendary Blackwater Rafting Co., Ruakuri Cave, Aranui Cave, Maui, Britz, Backpacker Campervan and Car Rentals and Kiwi Experience.
###