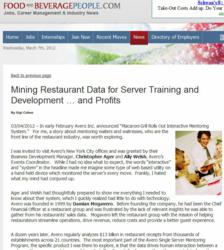 New York, NY (PRWEB) March 07, 2012
FoodAndBeveragePeople.com, a website dedicated to career minded food and beverage professionals, today published a review of the data mining and mentoring services of Avero Inc. Avero regularly analyzes $13 billion in restaurant receipts from thousands of establishments across 21 countries. Through proper analysis Avero is able to help clients identify server benchmarks and support the restaurant manager's efforts to develop their wait staff.
The article, "Mining Restaurant Data for Server Training and Development … and Profits" includes a conversation with Jim Hofer, Director of Training and Service Excellence of CRAVE, a Minnesota-based restaurant group and an Avero Single Server Mentoring client.
In every business, the investment in training, backed up by objective analysis such as sales receipts, is crucial. But in highly competitive industries like food services, ensuring front line servers are performing to reasonable standards is critical to maintaining a thriving business. From quick service restaurants, to leading high end establishments, smart restaurateurs are analyzing the numbers behind their sales to ensure maximum profits. Server job satisfaction appears to be a happy consequence of the effort.
About: Food And Beverage People Media Group, LLC and its premiere website FoodAndBeveragePeople.com ( food and beverage people dot com ) is for and about the people that drive the food and beverage industry in the United States. Industry professionals at every stage of their career will find the latest industry news, newsmakers, jobs and industry trends that will help inform their business and career decisions. To share content ideas related to the food and beverage industry, please visit the website. http://www.foodandbeveragepeople.com/cm/about_us