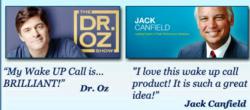 Former Broadway Star and My Wake UP Call® Messages inventor and patent owner, Robin (Boudreau) Palmer says, "Our mission is to help at least one million people to wake up inspired every day."
Westlake Village, CA (PRWEB) July 31, 2012
My Successables, Inc. intends to wake up one million people with inspiration and motivating messages before the Olympic Games closing ceremonies on August 12, 2012. Research shows that one's morning mindset sets the tone for the entire day. Former Broadway Star and President of My Successables, Inc., Robin (Boudreau) Palmer, has invented My Wake UP Call® Motivational Alarm Clock® Messages; patented, daily, five-minute messages which start every day positively, instead of a blaring buzzer or "alarming" news on the radio. Ms. Palmer says, "Our mission is to help at least one million people to wake up inspired every day."
A choice of sixteen product lines inspire listeners to wake up and work out, lose weight for life, relieve stress, feel well, find financial freedom and more with well-known experts Marci Shimoff, Janet Attwood, Debra Poneman, Mary Morrissey, Discover the Gift's Jack Canfield, the Dalai Lama, Michael Bernard Beckwith, Marianne Williamson, Shajen Joy Aziz, Demian Lichtenstein and many others.
Until August 12, My Successables is offering a FREE download of My Wake UP Call® Motivational Alarm Clock® iPhone App on iTunes or to choose any month of My Wake UP Call® Motivational Alarm Clock® Mp3 messages at http://www.MyWakeUPCalls.com for only $1! (regularly priced at $19.95!) by using Coupon Code 1MillionMornings when prompted at checkout.
Here are a few examples of the lives changed by My Wake UP Call® Messages:
"These messages have transformed my life. I'm approaching life in a new, healthier way!"— S.N.
This is the only way to wake up every morning. I feel motivated and energized from the moment I open my eyes. Everyone should wake up this way every day." — Caryn M.
"I am NOT a morning person at all. Now I wake up in a good mood and have a great start every day. I'm so happy to have found these messages." — PKcagirl
"I love this wake up call product! It is such a great idea! This wonderful product helps people wake up and puts them in a beautiful mindset. This is a very powerful tool to make the law of attraction work at an accelerated rate."

Jack Canfield, #1 New York Times best-selling author of the Chicken Soup for the Soul series and featured teacher in The Secret.
Ms. Palmer is asking for help to spread the message about 'One Million Mornings' so one million people will be inspired to champion the life of their dreams before the closing ceremonies of the Olympics on August 12, 2012. Says Palmer, "The race is on to change one million lives – one morning at a time."