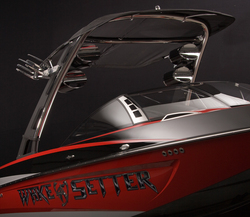 Merced, CA (Vocus) September 16, 2009
Malibu Boats Illusion Series tower design has advanced many aspects of wakeboard boat towers over the last 7 years to include better forward visibility, unique styling, easier function and greater strength. For 2010 Malibu has added to this list with the new Illusion G3 tower. This new wakeboard tower is standard on all Wakesetter models and features standard Titan Slide-off Spinner Wakeboard Racks, 3" stainless steel tube and billet aluminum construction along with an innovative weightless fold-down feature that folds to standard garage height.
Additional Links
Illusion G3 Flickr Gallery - (http://www.flickr.com/photos/malibuboats/sets/72157620589471033/)
Continuing Coverage of the Illusion G3 on del.icio.us - (http://delicious.com/malibuboats/illusion+G3)
The new Illusion G3 can be collapsed in seconds with little instruction. The gas spring assisted design of the G3 tower allows for weightless fold-down. A single person can collapse this tower and does not have to be strong to do it. The Illusion G3 is so light, even with optional accessories like two pairs of Titan Alpha II speakers and an extra set of Titan Slide-of Spinner racks installed the tower can be folded with fingertips.
When a Titan Slide-off Spinner Wakeboard Rack is in use a slight tug on the swivel pin directs the rack to spin and lock for easy loading and unloading of boards. Pull the pin again and the rack swivels back into place. Complete with combo forks, the Titan Slide-off Spinner can accommodate both a surfboard and wakeboard on each side. The racks can also slide off their tower mounts for quick storage. And the first pair of Titan Slide-off Spinner racks are standard on every Illusion G3. The tower can host as many as four racks while preserving its weightless fold-down feature.
The new Illusion G3 takes tower design and you to new heights with hybrid construction that marries the strength of all-weather coated billet aluminum with the resilience and beauty of 3" stainless steel tubing. The billet tower bases and wings add another unique element of strength and style to this exclusive tower. The first tower to combine these two materials, the Illusion G3 is as much a product of strong components as it is a precision built Malibu wakeboard boat feature.
The new Illusion G3 tower preserves the innovative characteristics of Illusion Towers past with the forward-sweeping design that produces the look of sleek motion even when the boat is completely still. This design also affords the driver more visibility, which is priority #1 on a busy waterway. The G3 even features pre-routed wiring so accessories additions are a snap.
Visit your local Malibu Boats dealer (http://www.malibuboats.com/dealers) to experience the 2010 Malibu boats with the new Illusion G3.
About Malibu Boats: Build the best boat possible, give boat owners the best value and enjoy the workplace. Since Malibu Boats' inception in 1982 the mission has been this simple. On the journey from building 100 custom ski boats a year in a small shop, to their standing as the world's number one selling wakeboard and water ski boats, Malibu has become an exemplary American boat company.
To stay current on all Malibu happenings subscribe to the Malibu Boats Blog RSS feed (feeds.feedburner.com/MalibuBoatsBlog/). You can also visit the Malibu Boats web site (malibuboats.com) and the Malibu Boats blog (http://malibuboats.blogspot.com). You can keep in touch with Malibu Boats on Twitter (http://www.twitter.com/malibuboats) and Facebook (http://www.facebook.com/malibuboats).
###