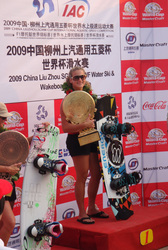 Getting first place was amazing
Orlando, Florida (PRWEB) October 9, 2009
In a stunning upset victory, 16-year-old Raimi Merritt beat out the world's top women riders to win gold at the IWSF Wakeboard World Cup Championships in Liuzhou, China last weekend. The competitors for the prestigious, invitation-only event included X Games and World Champion Dallas Friday (USA), former World Champion Amber Wing (AUS), Queen of Wake Pro Tour Champion Nicola Butler (GBR), and Asia/Australasia Champion Chen LiLi (CHN).
Despite the challenging water conditions of the Liu River and the pressure of 50,000 spectators, Merritt lead each of her qualifying heats to secure the last start off of the dock in the final round. Top-seeded rider Dallas Friday performed well in the finals, scoring 60.69, but Merritt's two passes in the finals were flawless. Her first pass included a 911, front roll, heel-side grab, a toe five, and a heel three. Her second pass featured an s-bend, toe-side back roll, tantrum, scarecrow, and wrapped KGB. The tricks earned her a score of 62.78 and the women's Wakeboard World Cup title.
Merritt was surprised by her performance. "Getting first place was amazing," said Merritt. "The water was really rolling and rough because of other boats and the backwash on the river. I went last in both the semis and the finals, so I had the privilege of watching the other girls ride before me. It looked pretty bad out there, but once you were actually out on the water, it was even worse. I just watched and saw what the girls did. I knew what I needed to do if I wanted to get the gold, so I went out there and tried my best and pulled it together."
Merritt's win in China marks her third World Cup title since turning pro two years ago. In 2008, the teenager took gold at the IWSF World Cups in Qatar and Egypt. This past year, Merritt took second place in the World Games in Taiwan, the Wake Games in Orlando, and the WWA Wake Park World Championships in the Philippines.
Merritt grew up in Lantana, Florida and now lives and trains in Orlando. She is sponsored by Hyperlite, MonaVie, and R3Global. For more information about Merritt, visit: http://www.raimimerritt.com.
###