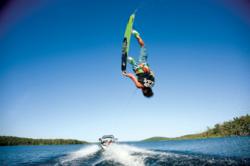 Customers are thrilled by our huge online selection of Liquid Force, Ronix and Slingshot wakeboards, and with our new shipping policy, Canadian watersports enthusiasts couldn't be happier.
Ontario, Canada (PRWEB) May 15, 2012
Buckeye Surf and Snow in Ontario, Canada launches their new online watersports and wakeboard store, offering the most comprehensive and up-to-date selection of wakeboards, towable tubes, wakesurfers, wakeskates, waterskis (combo skis and slalom skis), life vests, ropes & handles and every watersports accessory you could want.
Buckeye Surf has always been very competitive with it's flagship store in Bobcaygeon, Ontario, Canada, but now their expanded selection combined with a new free shipping offer, Canadian customers won't look anywhere else.
Says Dave Poole, owner of this over 60 year old family run business, "With the launch of our new store and free shipping policy, it just doesn't make sense anymore for Canadians to purchase wakeboards, wakesurfers, waterskis or towable tubes from the US. Not only do they forfeit their valuable warranties, but when shipping and brokerage fees are factored in, our all-in pricing is virtually impossible to beat."
And their customers seem to agree, as sales of Liquid Force wakeboards, O'Brien towable tubes and Ronix and Slingshot board sales and inquiries soar.
Craig Poole, resident wakeboarding expert at Buckeye Surf & Snow said, "Our customers comment all the time that our near complete selection of Liquid force wakeboards Ronix wakeboards and Slingshot wakeboards and wakeskates as well as virtually every type of towable tube you can imagine makes http://www.buckeyesurf.com the ultimate waterports and wakeboarding online store in Canada."
"We saw a need, as Canadians simply couldn't find the wakeboards and towable tubes they were looking for without buying from the states at higher total costs. We have answered that need with the best online watersports store in Canada."
Poole further added that they continue to add more learning videos to their site as well, ranging from "Beginner Wakeboarding - How to chose the right beginner wakeboard" to the "The art of choosing the right towable water tube for your family".
Says Poole - "We want our customers to get the product that they really need and want, not what somewhat wants to sell them, because at the end of the day, we are building long-term relationships, not getting one-off sales".
"When a beginner buys a wakeboard and wakeboard bindings that really work for them and their family, we all win. Selling them a wakeboard that isn't right for them might increase our sales short-term, but that's never been what Buckeye Surf & Snow is all about and never will be. We are very proud to be an honest, family-run business and our new website it no different."
The Pooles thinks it's really important to educate and inform beginner and advanced wakeboarders and watersports enthusiasts alike, and asks them to Like their Page on Facebook to learn exclusive tips and tricks. "I'd appreciate your help in spreading the word amongst other lovers of watersports and good summer fun," says Dave Poole.
Buckeye Surf & Snow also carries a wide selection of Billabong, Roxy, Fox, Volcom, Bench, Quicksilver, Element, O'Brien, Rip Curl and Hurley surf apparel as well as Reef sandals and Toms and Enties footwear in their Ontario, Canada store located at 12 Bolton Street, Bobcaygeon, ON, Canada.