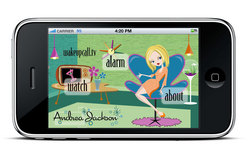 We've seen the genesis of news delivery... and the wakeupcall.tv application falls directly in line, delivering concise "twitter" style news content with relevant daily news.
Orlando, FL (PRWEB) March 3, 2010
Wakeupcall.tv is a new iPhone application that turns an alarm clock into a daily two-minute video newscast set off by a jazzy retro ringtone. The creator and host of wakeupcall.tv, Andrea Jackson uses a conversational style to deliver the latest eye opening news headlines including a brief national weather forecast. Jackson's casual presentation is perfect for slumbering types who would rather listen than watch with sleepy eyes. Plus parents, the content is suitable for the 12 & under smartphone set.
Easy-to-use and styled with 60s flair, wakeupcall.tv can be viewed with or without setting the application's alarm clock. Users can set their own alarm and view the daily webcast by tapping the classic TV icon featured on the screen's home page. When a new webcast is uploaded, the application automatically updates the video and plays the most recent newscast.
Andrea Jackson, best known for her work as host & managing editor of the TV morning show "The Daily Buzz" (2002-2009), created wakeupcall.tv after leaving the program and dreaming up new ways to deliver morning news.
A big idea took shape as a small mobile screen and the search began for the right team to develop the wakeupcall.tv iPhone application. A dozen top developers were consulted before Jackson discovered the team at Branded Research, an app development and marketing firm based in southern California.
Branded Research, co-founded by Matt Gaffney and Rhett McNulty, started out creating applications for Facebook and quickly transitioned into the world of smartphones. The firm was way ahead of the app game, developing video style applications for celebrities, integrated with an alarm clock for the iPhone. The Santa Monica based company was a perfect fit for Jackson's innovative concept of a newscast cued by an alarm clock.
The idea of wakeupcall.tv caught the attention of owners Gaffney and McNulty who are pitched hundreds of app ideas on a weekly basis. Both consider it the next step in the evolution of media, "We've seen the genesis of news delivery, from newspaper and print, to the web, and now on the phone through mobile applications. The wakeupcall.tv application falls directly in line, delivering concise "Twitter" style content with relevant daily news."
Wakeupcall.tv was inspired by the growing demands of a smartphone lifestyle, revealed in these recent studies:
*A poll of nearly 1500 people showed 82% of them owned a mobile phone, with over half of them using it as an alarm clock. Telegraph
*95% of people surveyed online by Ruder & Finn use their mobile phones to stay informed with 60% going to their smartphones for current news and events. Editor & Publisher
*Consumers will spend $6.2 billion dollars on apps this year. Gartners
Follow this link to the iTunes App Store and download the wakeupcall.tv application for $1.99 on the iPhone, iPod Touch or new iPad. Go to the official website's hospitality page to join the wakeupcall.tv social networking scene and find out who's dialed into the phone call waking up the app world.
###