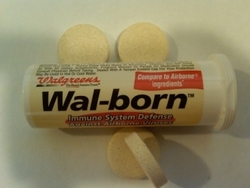 Phoenix, Ariz. (PRWEB) August 3, 2009
Walgreens recently settled a class action lawsuit which gives consumers the ability to claim up to $14.97 or a free flu shot without any proof of purchase or receipt necessary to submit their claim.
The class action lawsuit involves the Walgreens product Wal-Born. Wal-Born (also briefly sold as Wal-Borne) is the Walgreens generic equivalent of the herbal cold remedy Airborne. Consumers would take Wal-Born or Airborne in the belief it helps to help stave off colds. The Wal-Born class action settlement is available now.
The class action (Geis v. Walgreen Co. and Roper v. Walgreen Civil Action No. 2:07-cv-4238-KSH-PS) alleges that Walgreens made false claims regarding its Wal-Born products to the effect that they could treat or prevent the common cold. This is very similar in nature to the Airborne Health Formula class action settlement of 2008 (Wilson v. Airborne, Inc. et al. Case No. EDC V07-770 VAP.) You can read about the Airborne class action settlement at Top Class Actions. Both class action lawsuits ended in the Plaintiffs settling and paying cash to claimants along with agreeing to change how they market their respective products and the effects of each.
Top Class Actions has initiated coverage of the Wal-Born settlement and breaks down for consumers exactly how to submit their claim. Top Class Actions details where to get the claim form, how to submit their claim and everything necessary for the consumer to easily claim up to $14.97 or a free flu shot. Consumers claims must be submitted and postmarked by 9/7/2009. Claims will not be accepted after 9/7/2009.
Scott Hardy, President of Top Class Actions, stated "In this recession there are thousands of consumers out there who could use the money from this class action settlement and others listed on our site. In this case it could also help those without health insurance by getting them a free flu shot (valued at $25) from Walgreens. Children will be especially vulnerable to the Flu and Swine Flu (H1N1) when the flu season starts in fall. It's great that protecting people is a priority for Walgreens and the attorneys involved with this class action settlement."
Top Class Actions is based out of Phoenix, Arizona and have been posting class action lawsuit settlements since it launched in 2008. The website is completely free to access for consumers and breaks down class action lawsuit settlements in an easy to understand way. Consumer Reports Consumerist and Karen Datko of MSN Money's Smart Spending Blog have recognized Top Class Actions (and the settlements posted) multiple times, which is how many have stumbled across it. On Top Class Actions you'll see information about both Open (open for claims) and Closed (claims no longer accepted) settlements. In addition consumers can submit complaints about products, services or anything else they want reviewed by an attorney for free so they can possibly start their own lawsuit.
About Top Class Actions
Founded in 2008, Top Class Actions has quickly become the leader in online class action lawsuit settlement notifications. Listing a class action lawsuit settlement at Top Class Actions gets it in fronts of thousands of consumers actively looking to participate in class action lawsuits. Top Class Actions product suite also includes one which helps attorneys identify participants in new class action lawsuits.
Top Class Actions and the Top Class Actions logo are trademarks or registered trademarks of Top Class Actions LLC in the United States and other countries
###