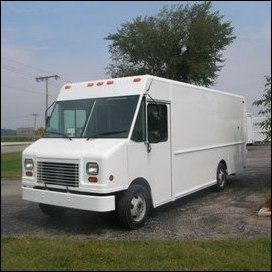 As a company, I think we can do a better job of reaching out to people about what these trucks can do
Union City, IN (Vocus) March 23, 2007
Workhorse Custom Chassis is in the process of developing a one-two punch aimed at revitalizing the market for walk-in trucks.
The manufacturer of chassis for walk-in trucks (also known as step vans) "has developed a new laser focus with our truck products and marketing" since its acquisition by International Truck and Engine Corporation in 2005, said Jay Sandler, Workhorse vice president of commercial product.
Walk-in trucks, because of their easy stand-up access to the interior cargo area, lower loading platform and easy entrance and exit out the curbside steps, are ergonomically superior and much more efficient than cab-and-box trucks for businesses performing multiple service stops. They also make ideal mobile warehouses and workshops for contractors or those involved in service work.
According to Sandler, there has been a recent surge in walk-in sales the last two years, which can be attributed to an increase in parcel delivery vehicles, as more people are shopping through the Internet, the Home Shopping Network and other sources. He says that trend should keep fleets expanding for several years, since for multiple stops over short distances, the walk-in truck is the perfect vehicle.
Recent developments have positioned Workhorse to take better advantage of this growing demand and, even more importantly, create additional demand.
The first "punch," you might say, is the rapid expansion of choices for walk-in users in terms of powerplants and truck capacity, driven by Workhorse's recent product offerings. In 2005 Workhorse revamped its mainstay chassis with significant ride, handling and performance improvements in its new W42 truck platform. Underneath the familiar skin, the walk-in was a new truck, similar to other new trucks. Also of significance, the W42 came with a choice of a gas or diesel engine.
The W42, however, was still limited to Workhorse's traditional range of 9,400 to 14,500 lb. GVWRs (gross vehicle weight ratings: the combined weight limit of a truck and its payload). That changed when Workhorse added a 16,000 lb. GVWR in 2006. Now Workhorse has added the heavier duty W62 in 2007 with GVWRs of 19,500 and 23,500 lbs. The W62 also provides the choice of gas or diesel engines, and this is the first time a gas option has been available for both those GVWRs -- an increasingly viable option for some fleets as diesel engines soar in cost. Workhorse now is the only company that covers the full range of options for medium and heavy duty walk-ins.
"The W62 represents a category we haven't been able to compete in before," said Sandler. "We saw a need for more choices up and down the GVW ladder, particularly with engines. We consider ourselves a customer-driven company, responsive to market needs. And if we're truly a trucking manufacturer, we need to be offering solutions to those needs."
But such options don't mean much if potential customers don't know about them and their benefits. "As a company, I think we can do a better job of reaching out to people about what these trucks can do," said Sandler. "Our research shows there's opportunity to obtain a significant number of new customers if we focus our efforts correctly."
The second punch is the International connection. "We have access to a lot of trucking expertise, both in manufacturing and sales," said Sandler. "As I've said, this has already sharpened our focus and commitment to the trucking market, and we expect to send a loud and clear message with that focus, which is: We're not only sticking with the walk-in business, we're going to revitalize the whole category of walk-in trucks. You're going to see a lot more of them out there because of us."
The first moves in this direction have been made, said Sandler. Workhorse has recently begun establishing relationships with International dealers that it believes can assist Workhorse truck sales. "The initial response from the International dealers we've talked to has been terrific," said Sandler. "They're excited to have this kind of truck to sell. And we're excited because they are obviously people who know how to sell and service trucks. It's a big win-win."
With access to International expertise and resources, Workhorse expects to bolster the kind of product and sales/service support needed to make new inroads into the medium duty truck market. "We're very confident that the combined International and GM expertise of our company, supported by the range of our product offering, will yield significant results in getting the benefits of these trucks into more people's hands."
"This is the kind of synergy the walk-in market hasn't seen before," Sandler concluded. "I think it's going to be fun to watch."
Workhorse Custom Chassis
Workhorse Custom Chassis is ISO 9001 certified and a leader in the manufacture of chassis for motor homes, walk-in trucks and buses. It is a wholly owned subsidiary of International Truck and Engine Corporation. For additional information call 877-294-6773 or visit http://www.workhorse.com.
International Truck and Engine Corporation is the operating company of Navistar International Corporation (NYSE: NAV). In addition to Workhorse brand chassis, the company produces International® brand commercial trucks, mid-range diesel engines and IC brand school buses, and is a private label designer and manufacturer of diesel engines for the pickup truck, van and SUV markets. A wholly owned subsidiary offers financing services. Additional information is available at: http://www.internationaldelivers.com.
###