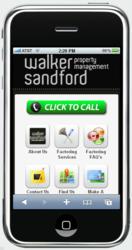 Clients can now enjoy the manageability and functionality of our brand new business website while on the move.
Glasgow, Scotland (PRWEB) May 31, 2012
Walker Sandford's new mobile website brings users a streamlined browsing capability with icon navigation and easy access to the information and services they need while on the move.
The new mobile version of Walker Sandford's website is designed to operate on the popular iPhone, Android, and Blackberry operating systems and is tailored to the smaller screen of the mobile device.
Walker Sandford's new online look has been designed and project managed by Maya Mendoza and her web development team at Milagro Fusion Marketing
"The mobile site takes the most popular features of the freshly designed business site and simplifies them, making it easier to gather information," Mendoza says, "additionally, each page gives users access to the full site and the opportunity for social engagement with Walker Sandford via Facebook, Google+ and Twitter."
"The days of the laptop are disappearing, and we (Walker Sandford) are answering the call of our clients to provide them with a mobile site that meets their need for convenient access to information anywhere at any time, through a mobile device," said Paul Walker, owner of Walker Sandford's Property Management Ltd. "Our clients can now enjoy the manageability and functionality of our brand new business website, we launched earlier this week including and on-line payment facilities, and tap-to-call access to our customer services department. We are excited to make those features available on our mobile web offering."
Walker Sandford Property Management, Ltd. has been looking after residential and commercial properties in Glasgow and the central belt of Scotland for over 17 years. More information about Walker Sandford and the services they offer can be found at http://www.walkersandford.co.uk.
Milagro Fusion Marketing is a full service digital marketing and mobile marketing consultancy offering a complete range of integrated online, social and mobile marketing services. It is a virtual organisation, with hubs in located in Glasgow, Scotland; Baltimore, Maryland and Austin, Texas.